Tillamook Coast Life Blog
Clay Studio @ the Hoffman Center
The volunteers at the Hoffman Center for The Arts' clay program will help you find your inner artist.
And they want you to get your hands dirty.
That's not to say you can't start simple: beginners can easily learn to make a simple pinch or slab pot.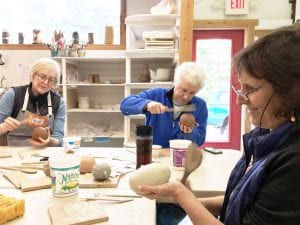 If you want more one- on-one instruction, you can choose from private lessons as well as master classes featuring local and regional clay experts.
Curious about the work being done in the studio? You can usually find ceramics from studio and guest artists on display in the adjoining Hoffman Gallery in Manzanita. There's also a large ceramic sale across the street at Hoffman Gardens during the summer.
Proceeds support the clay program.