Tillamook Coast Life Blog
Deep Soils and Salt Air – DeNoble Farms
Artichokes, like fresh crab, is a great food for a leisurely meal with company, and excellent dipped in melted butter. Eating an artichoke leaf by leaf you slow down, one delectable bite at a time, spiraling toward the rich meaty heart at the center.
The artichoke plant is in the thistle group of the sunflower family and is grown commercially in only a few places in the USA, one of which is Tillamook, Oregon. DeNoble Farms harvests artichokes from May through November, and their specialty baby artichokes are shipped to fancy restaurants near and far.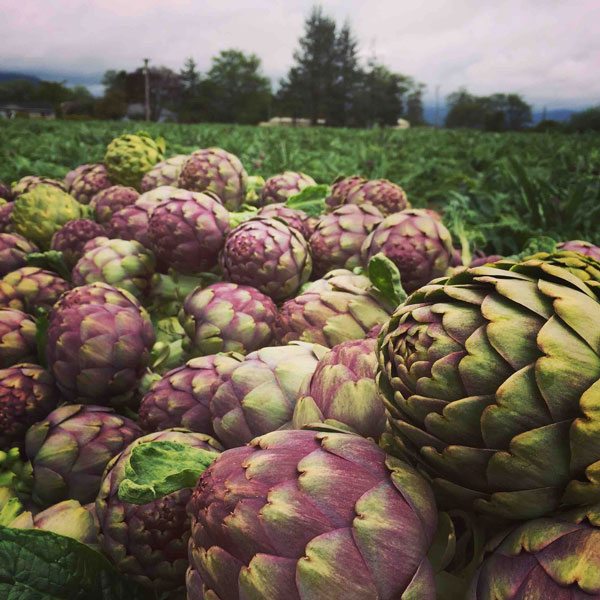 At DeNoble Farms the deep rich soils, and early morning summer fog make for bountiful, flavorful harvests. Farmer Tom DeNoble also gives a nod to the salt air for lending a special terroir to the taste of their produce.
Visiting the DeNoble's farm stand I sometimes feel I've stumbled across a Jurassic Park of vegetables. There I've seen celery nearly 3 feet tall, like some prehistoric relative of what I find in the grocery stores. Better yet these generously proportioned vegetables have a flavorful sweetness so alluring I'm unlikely to make it home without mowing down half of the sugar snap peas, several carrots and multiple stalks of celery.
DeNoble's farm started as a quarter acre 16 years ago, and now Tom and his wife farm over 30 acres of certified organic produce with their two children and a handful of hired farm hands.
Swing by their honor-system farm stand, open all hours and restocked daily by 9am, located at 735 Wilson River Loop in Tillamook.