Tillamook Coast Life Blog
Get your hands dirty in clay
Creating art can be inspiring. It can also be a tad frustrating.
But, in the words of Ralph Waldo Emerson, "Every artist was first an amateur." 
The volunteers at the Hoffman Center for The Arts' clay program will help you find your inner artist.
Established in 2006 by Kathleen Ryan, the clay program offers a wide variety of clay activities for anyone 18 years and older at its open studio.
And they want you to get your hands dirty.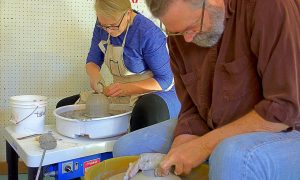 Originally the studio consisted of one kiln, one wheel and a handful of volunteers. Since then, it has steadily grown to include five wheels, two kilns, and over 13 volunteers. 
"We're very proud of how far we've come," said volunteer clay studio co-leader, Sharon Gibson. 
That growth has allowed the program to expand hours to three days a week and one evening at their open studio.
Everyone is welcome to drop by the studio, though it's often better if participants have a little more to spare.
"We work with raw clay and you have a lot of steps to see a piece through to the end," said co-leader Steven Gibson. "The entire process takes about two to three weeks."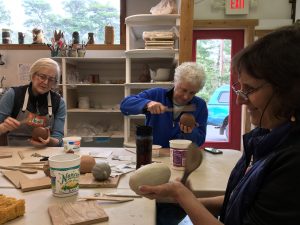 That's not to say you can't start simple: beginners can easily learn to make a simple pinch or slab pot.
If you want more one-on-one instruction, you can choose from private lessons as well as master classes featuring local and regional clay experts. 
Curious about the work being done in the studio? You can usually find ceramics from studio and guest artists on display in the adjoining Hoffman Gallery. There's also a large ceramic sale across the street at Hoffman Gardens during the summer. Proceeds support the clay program.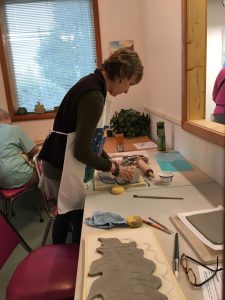 The studio relies on donations of supplies and time and charges a nominal fee for studio time and clay. 
"We really try to keep the fees down so it's approachable for everybody," said Sharon, noting that the studio is one of the largest not-for-profit studios on the coast. 
The studio has a large base of local users, though the Gibsons have noticed a slight rise in drop-ins by out-of-towners. 
"Often times those folks are interested in a new experience. They don't necessarily want to take anything home with them," said Sharon. 
"Whether it's food or art, people are becoming more interested in learning how to make things," Steven added.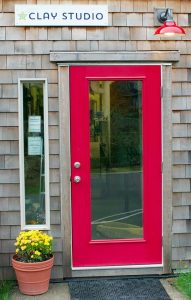 Hours are Tuesday & Saturday, 10 a.m.- 4 p.m. and Thursday, 10 a.m.- 8 p.m.
Adults age 18 or older, all experience levels
Studio fees are $2 an hour and clay fees are $1.50 per pound
No reservations needed.