Tillamook Coast Life Blog
Mix fun with fitness while vacationing on Oregon's Tillamook Coast
Runners on the Bayocean Peninsula for the Tillamook Bay Run.
Tillamook County is a gourmand's nirvana, from its fresh, local seafood to the rich line of dairy products that bear its name. That can spell trouble for those who tend to pack on pounds quickly when they stray from their normal diet and fitness regimen.
… But it doesn't have to, thanks to the region's many opportunities for exercise.
The county's miles of beaches, hills, and headlands make for the varied running terrain. Little wonder there are races held here year-round. The first, held every winter, is the Three Capes Relay, a full 26-plus-mile marathon course that starts at Cape Meares and winds along the Three Capes Scenic Loop, climbing to 2,400 before descending back to sea level and culminating at Cape Kiwanda.
Also held in the winter, the Tillamook Splash and Dash Run is a 10K, 5K and quarter-mile kids' event benefiting maintenance of a fitness trail at Tillamook Junior High School. This course is located at the Port of Tillamook Bay Industrial Park.
On the fourth Saturday in June, the same day the City of Tillamook hosts the annual June Dairy Parade, the Tillamook County Family YMCA holds its Milk Run, which includes a 10K and 5K run, 5K walk and a Children's Challenge Course.
There are three beach runs held on the Tillamook Coast each year: The Manzanita Beach Run, the Tillamook Bay Run and Cedar Creek Beach Challenge are all staged on the sandy shore in the summer.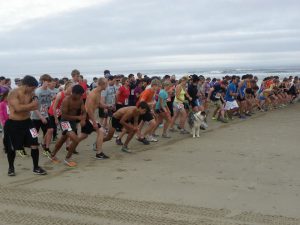 If you would rather work out indoors, Tillamook County offers fitness centers from Manzanita to Pacific City, all of which permit drop-ins. Fit Manzanita is outfitted with a full range of cardio equipment with private viewing screens and music channels as well as multi-purpose strength training equipment and free weights.
A couple of miles south on U.S. Highway 101, the North County Recreation District in Nehalem features a swimming pool, yoga studios, fitness center and gymnasium.
The Tillamook County Family YMCA, in Tillamook, has two pools, a large fitness center, gymnasium, yoga, pilates and martial arts studio, four racquetball courts and an indoor track.
Also in Tillamook, The Warehouse Strength & Conditioning holds classes in powerlifting, guided circuit training and Olympic-style weightlifting.
In south Tillamook County, Pacific City's Bay Shore Physical Therapy and Fitness Center features treadmills, an elliptical machine, a stationary bicycle, a Stairmaster and a number of weight machines. You can reach Bay Shore Physical Therapy and Fitness Center at 503-965-6400 or by stopping in at 38505 Brooten Road, Pacific City.
Finally, if you plan to stay in Tillamook County for a longer vacation, there are several personal trainers in the area, including Kelly Benson, who works with clients at both the Tillamook County Family YMCA and Fit Manzanita.