Tillamook Coast Life Blog
Neskowin residents rally to save historic golf course
Neskowin Beach Golf Course supporters gather for a movie at the clubhouse. Throughout the summer, the volunteer organization has hosted free Friday movie nights for the community. (Photo courtesy of Neskowin Beach Golf Course)
At nearly halfway to their goal, the volunteers hoping to preserve the Neskowin Beach Golf Course aren't showing any signs of slowing down.
The nonprofit group has raised more than $450,000 toward the $910,000 it needs to fully purchase the 83-year-old course, clubhouse and manager's residence, said Jeff Linman, Neskowin Beach Golf Course Board member. Those funds are largely from 240 households, all of which were given membership to the course.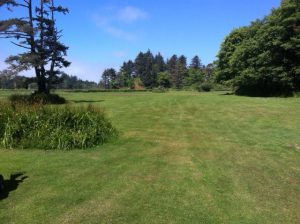 "The golf course is like the hub of the village," said Linman. "If we hadn't pulled together to make this happen, we would have lost the golf course, which could have really hurt the community."
In May, when owner Tom Clark decided he no longer wanted to operate the business, it seemed the nine-hole, par 34 course would shut down. However, a group of local golfers joined with other members of the community to brainstorm ways they could keep it open. They landed on the idea of forming a nonprofit organization through which they could raise funds to buy the course, as well as maintain it.
In early August, the group finalized the purchase agreement. Now it just needs to generate the remainder of funds, hire a manager and continue to maintain the course. "Currently we are running this golf course on a completely volunteer basis, from mowing the greens to working in the clubhouse, and everything in between," said Linman.
Those behind the effort to preserve the Neskowin course say community ownership will permit the innovative use of course facilities for community events as well as ensure future generations of Neskowin residents can enjoy the historic space.
In the meantime, the Neskowin Beach Golf Course group continues to host community events, such as free movie nights and disc golf and croquet tournaments, as well as raise money for the cause.
"It really is an amazing story," said Linman. "It's a great example of how a whole community can pull together to keep something historic alive for our future generations. One of my favorite things is to watch a 4- or 5-year-old child going out with their own little golf bag with Mom or Dad to learn how to play golf – truly a special thing to witness."
Keep up with Neskowin Beach Golf Course news on the group's Facebook page.
Qualified potential golf course managers can email their resumes and cover letters to nbgc@newskowinbeachgolf.com.