Tillamook Coast Life Blog
Sushi for everyone – NW Gardens Roll and Bowl
Sushi rolls and ramen bowls roll with the times and showcase the best of what's fresh, organic and in season at NW Gardens Roll and Bowl.
Chef Bryan Tiller and farmer SarahFae Scott are bringing sophisticated farm-to-fork meals to farmers markets on the North Oregon coast. Bryan has trained with four sushi masters in his 10 years as a sushi-chef. SarahFae, as the self-titled garden liaison in the business, grows a number of the raw ingredients herself and sources other ingredients from local farms, ranches, and fisheries.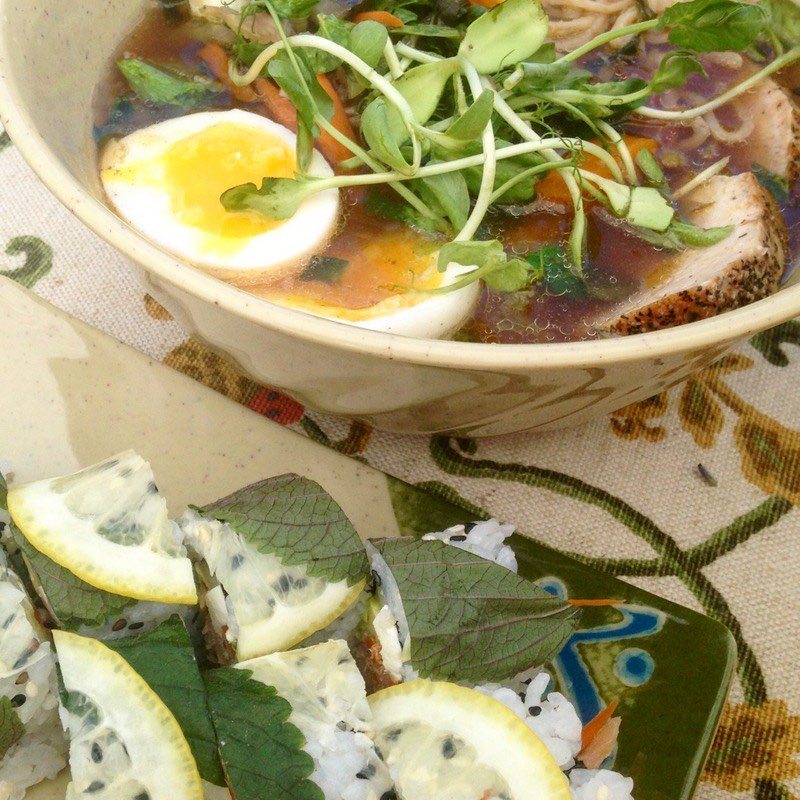 Vegetarian and vegan friendly dishes, far being an afterthought, were central to the early vision for the menu of NW Gardens Roll and Bowl. Their vegetarian Forager Roll features a wild-foraged salty, tangy crunchy, succulent plant called sea beans. The Neah-Kah-Nie Roll incorporates kimchi from Neah-Kah-Nie Gardens. The vegetarian ramen bowls feature a stellar broth made with fresh shitake mushrooms and organic miso, and can be topped with tofu if you prefer that to a farm fresh egg.
Don't fret, the omnivore is not neglected in the lineup. Choose from the Smokey Spicy Tuna Roll, or opt for smoked salmon in the River Roll. The ramen bowls are legit too; the base is bone broth from Lance's Farm Vittles, complimented with pork loin, and topped with sunflower sprouts from Sustaining Space Farm.
NW Gardens Roll and Bowl brings their piece of the local food system full circle. I catch SarahFae as she delivers ramen bowls to fellow farmers market vendor R-evolution Gardens, in essence nourishing the farmer with a meal made with their own vegetables.
Visit NW Gardens Roll and Bowl at farmers markets in Astoria on Sundays, Cannon Beach on Tuesdays, and at the Manzanita Farmers Market on Fridays 5pm-8pm from June through mid-September.