Tillamook Coast Life Blog
Wheeler's Rising Star
This article was originally published in April, 2015 and updated in August, 2018.
Rising Star Café is tucked quietly back from Hwy. 101 on the east side of the road in the heart of Wheeler. This fine little restaurant is a delightful surprise! Once you've found it, you will want to return again and again. Using locally sourced ingredients for most of their food supports local producers as well, and the time and care given to each dish showcases the thoughtfulness and love put into each creation. This charming cafe is for those who truly savor a creative and delicious dining experience.
When my wife and I ordered from the menu, I chose a pan-seared Garibaldi Red Rockfish and Shrimp Francaise. The fresh fish had been dipped in egg batter and cooked until it was golden brown, and served with Oregon bay shrimp. The garlic mashed potatoes and fresh local greens with lemon butter were the perfect accompaniment to the fine fish. My wife chose the Pacific Tombo Tuna. It was star-dusted and pan-seared to medium rare, then served with a bright Mediterranean cucumber salad, tomato sesame salsa, fingerling potatoes with harvest vegetables, and a citrus beurre blanc sauce.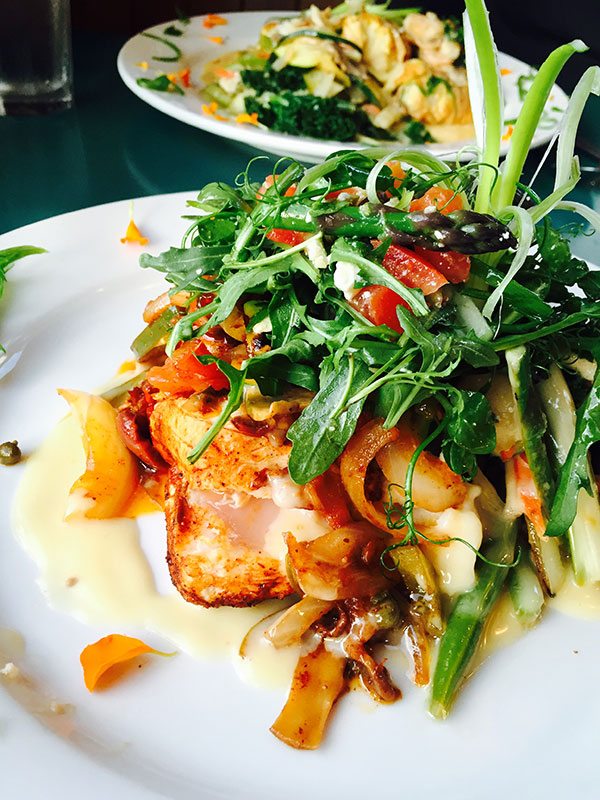 The tiny building in which the restaurant is housed contrasts starkly with the big flavor Rising Star Café manages to produce. This business is a labor of love, and that is evident through the execution of each item on the menu. It's a lovely environment, too. Enjoy the garden gazebo for outdoor drinks and dinner—with live music some evenings! Listen to some smooth jazz while you nosh during the summer.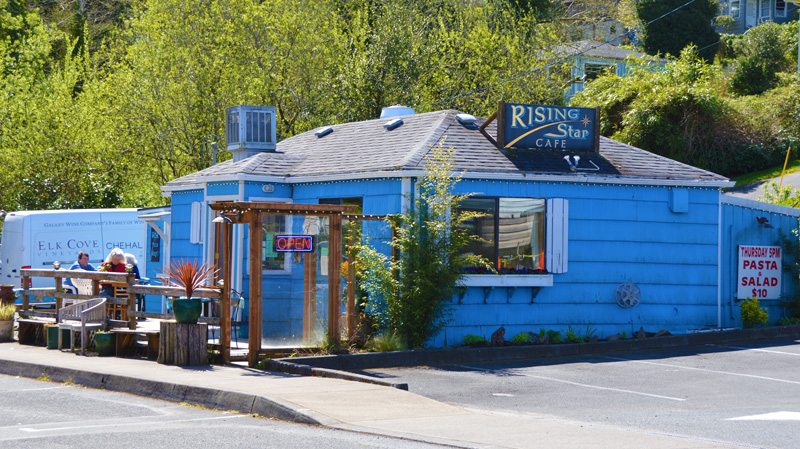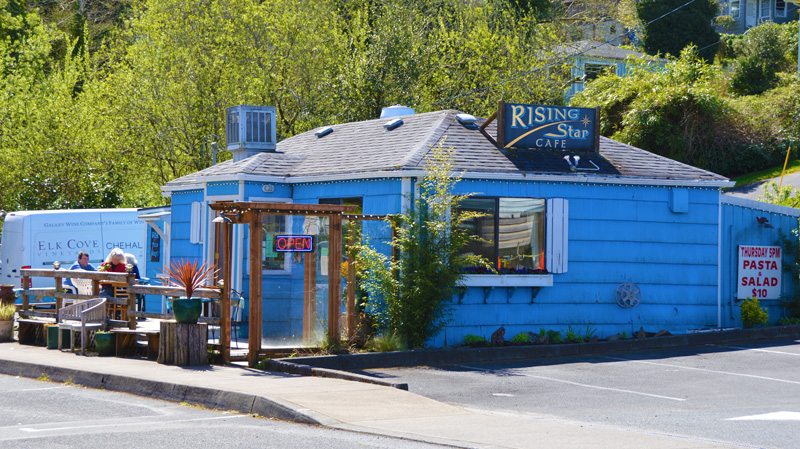 The restaurant is the creation of Ron Minschwaner, the chef, and Pepi Gabor, who handles desserts. They moved to the Coast in 2007 because they fell in love with the natural beauty of Tillamook County. The pair established the Rising Star the next year, and it has grown to become a well-known highlight of Wheeler. Fresh flavors, vegetarian options (often tough to find at the shore!) and plenty of local organic ingredients make the restaurant stand out.
Pepi and Ron say their vision was to create a business that felt like an extension of their home; they wanted to invite people into a warm, intimate space. Following through on that goal, the restaurant has woven itself into the community. Ron and Pepi hold a weekly pasta night for just $10 to bring visitors and locals in for a big, shared meal. They also hold regular movie nights at the Treasure Tea Room—it's just across the street, so grab your meal at the Rising Star and mosey over to the screening.
Now in its eleventh year, this restaurant will be on the map for a long time to come. If you are looking for a new dining experience, with a quaint and warm ambience, friendly knowledgeable staff to suggest wines for each course, and a very skilled chef, take the side street off Hwy. 101 and discover this little marvel of culinary expertise.