IT'S A WONDERFUL LIFE: LIVE RADIO PLAY @ NCRD NEHALEM
November 5, 2018 @ 7:00 pm - November 9, 2018 @ 9:00 pm
$15
Event Navigation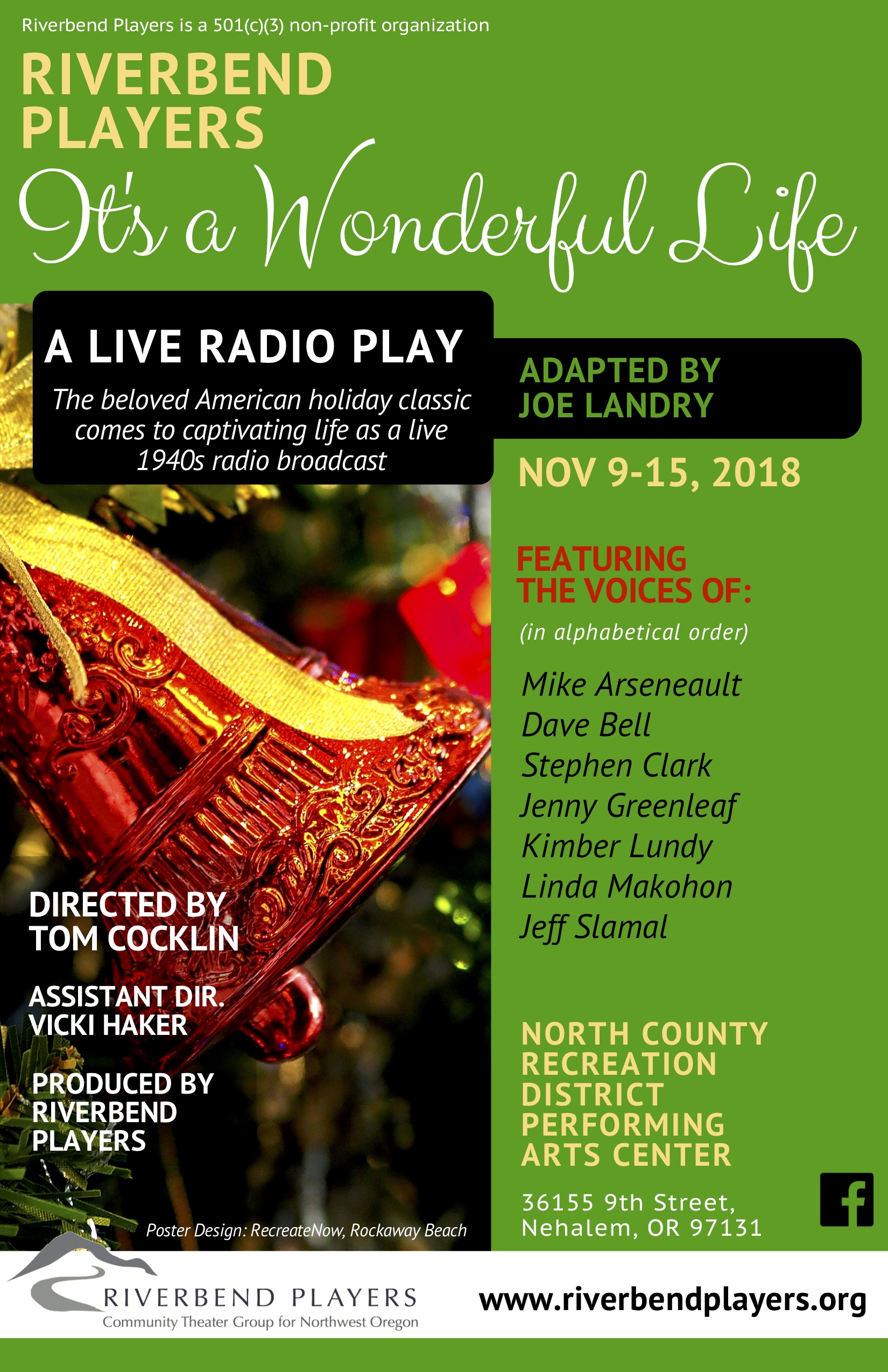 Riverbend Players Presents
It's A Wonderful Life: A Live Radio Play adapted by Joe Landry
Opening Night: Friday, November 9th (7pm)
7pm Performances | Nov 9, 10, 17, 2018
2pm Matinees | Nov 11, Nov 18
The beloved Frank Capra American holiday movie classic comes to captivating life as a live 1940s radio broadcast. With the help of an ensemble that brings a few dozen characters to the stage, the story of idealistic George Bailey unfolds as he considers ending his life one fateful Christmas Eve.
Don't miss out on this amazing evening of theater.
5 performances only.
TICKETS:
ADVANCE TICKETS AT: TICKETTOMATO.COM
ONLINE $12 (PLUS TICKET FEE) OR $15 AT THE DOOR (NO TICKET FEE).
Buy advance tickets now:
Nov 9: https://www.tickettomato.com/event/5853
Nov 10: https://www.tickettomato.com/event/5854
Nov 11: https://www.tickettomato.com/event/5855
Nov 17: https://www.tickettomato.com/event/5856
Nov 18: https://www.tickettomato.com/event/5857
Announcing our "wonderful" cast and roles:
Mike Arseneault – George Bailey (young and old)
Dave Bell – Bert, Bridgekeeper, Announcer, Old Man Collins, Mr. Welch, Ed, Peter Baily, Joseph
Stephen Clark – Mr. Potter, Nick, Martini, Cop, Binky, Sheriff, Billy, Mr Gower, Horace The Teller
Jenny Greenleef – Pete, Schultz, Tommy, Sadie Vance, Mrs. Hatch, Zuzu
Kimber Lundy – Violet, Janie, Ruth, Matilda, Rose Bailey, Mrs. Thompson
Linda Makohon – Mary Hatch (young and old)
Jeff Slamal – Clarence Oddbody, Harry (young and old), Ernie, Sam Wainwright, Dr. Campbell, Charlie, Man (at Martini's), Man (at run on bank).
Tom Cocklin – Director
Vicki Haker – Assistant Director
Linda Petersen – Stage manager
John Haker – Stage announcer and foley
Mary Marken – Sound and lighting engineering, foley
Tom Mock – House Manager
RecreateNow LLC – Poster Design & Social Media
Friends of Riverbend Players
Produced with permission by Playscripts, Inc.
7 Penn Plaza, Suite 904, New York, NY 10001
Follow us on Facebook or visit our website at www.riverbendplayers.org
#WonderfulLife #NCRDPAC #riverbendplayers #NehalemOregon#LiveTheater
Riverbend Players is a not-for-profit 501c3 production company and does not pay its performers. Riverbend Players is committed to objective casting and does not consider factors of race, gender, age or ethnicity in casting except when such factors are required by the playwright.