STAGES : SONGS FROM BROADWAY
September 13, 2018 @ 7:00 pm - 9:00 pm
$13.50
Event Navigation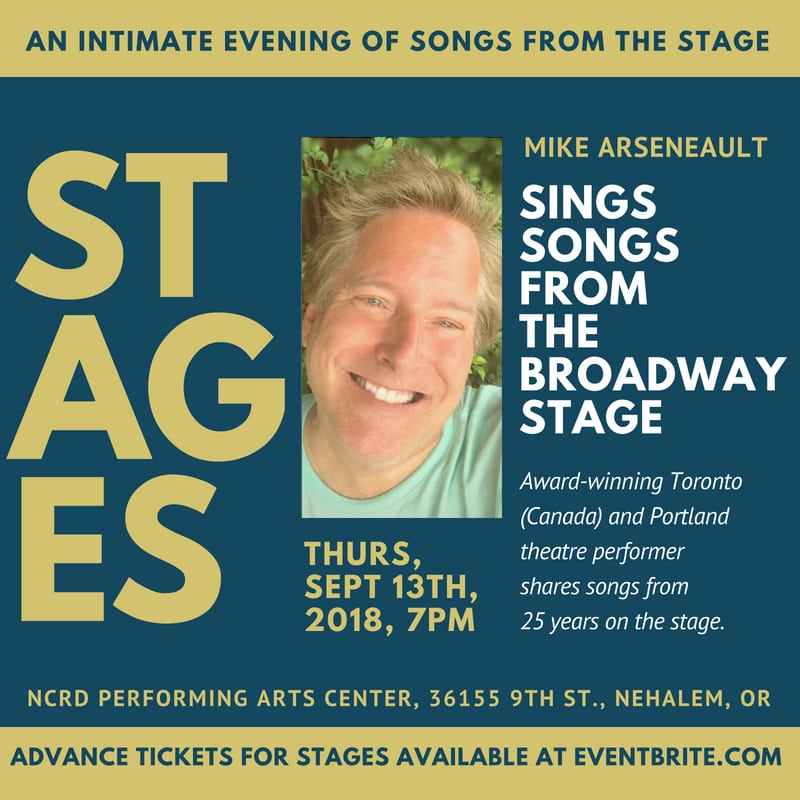 STAGES | SONGS FROM BROADWAY
What | STAGES | Mike Arseneault Sings Songs From the Broadway Stage
Date & Time | Thursday, September 13, 2018, 7-9pm (all ages) (doors open at 6:34 pm)
Location | North County Recreation District Performing Arts Center, 36155 9th St., Nehalem, OR
Ticket Price | $12.00 (through Mike) or 13.50 online at EventBrite (all ages, perfect for all the family)
SHOW SYNOPSIS:
MIKE ARSENEAULT SINGS SONGS FROM THE BROADWAY STAGE.
Award-winning Toronto (Canada) and Portland theatre performer shares songs from 25 years on the stage.
This intimate evening of songs and stories will be a mixture of favorite songs from well-loved musicals, to gorgeous songs from new composers and even anthems from songs still playing on the Broadway stages.
Mike will be supported by the talented Brenna Sage on piano as well as violin and cello accompaniment.
ABOUT MIKE ARSENEAULT
Mike has performing on stage for close to thirty years, primarily in Toronto (Canada) and recently in Portland, Oregon. He now lives in Rockaway Beach and is focused on bringing more of the incredible music from Broadway to this little part of the Oregon Coast.
Mike has recieved numerous awards and nominations for his on-stage performances over the years and some of his favorite roles and musicals include: The Baker (INTO THE WOODS), John (MISS SAIGON), Nathan (GUYS AND DOLLS), Rooster (ANNIE), Beadle (SWEENEY TODD), Motel (Fiddler On The Roof), Peter (COMPANY), Dickon (SECRET GARDEN), Hysterium (FUNNY THING…FORUM), TITANIC – THE MUSICAL (Etches), Minstrel (ONCE UPON A MATTRESS), Bobby (A CHORIUS LINE), Charlie (BRIGADOON), Arab (WEST SIDE STORY), Reverend Bliss (Carrie – The Musical) and more.
For more information on Mike's stage performance and production background, visit: www.recreatenow.com/reinvent/
Musical Director: Brenna Sage
For event updates, watch for the STAGE FACEBOOK page.
#Stages #SongsFromBroadway
#MikeArseneault #RecreateNow
#NCRDPerformingArtsCenter #NehalemOregon
Media Contact: mikes.arseneault@gmail.com