"The Astronot"
September 28, 2018 @ 7:30 pm - 9:30 pm
$5
Event Navigation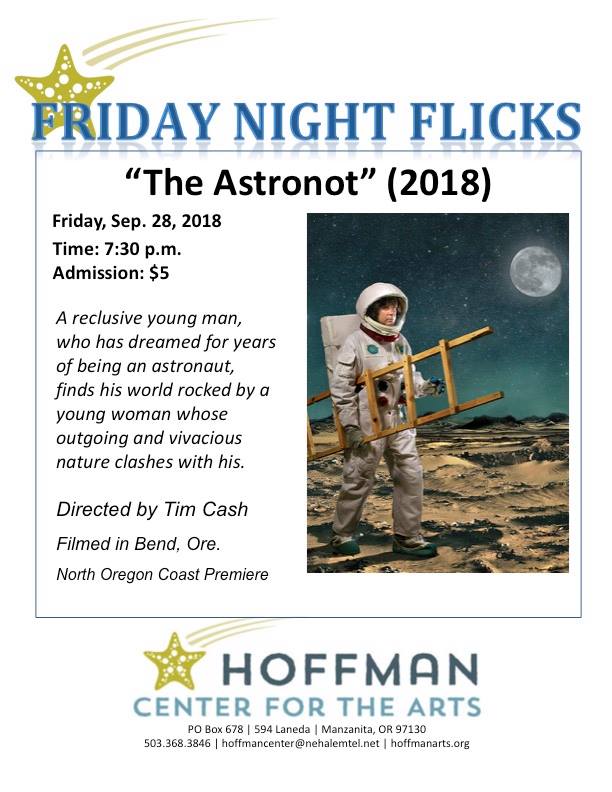 Hoffman Center to Premiere Bend Film "The Astronot"
The Hoffman Center for the Arts in Manzanita will screen the 2018 Oregon-made independent feature film "The Astronot," Friday, Sep. 28, at 7:30 p.m. Admission will be $5.
Filmed in and around Bend, "The Astronot" tells the story of a reclusive young man, devastated by personal loss, who has spent years looking up at the stars and dreaming of becoming an astronaut. His world is rocked when he encounters a young woman whose outgoing and vivacious nature bounces up against his quiet, withdrawn one, and their styles intertwine.
Directed by Tim Cash, the movie stars Pennan Brae, Yuvia Storm, and Brittany Dixon. It was released May 18, 2018.
The Manzanita screening will be its Oregon Coast premiere. The film runs 72 minutes.
The Manzanita Film Series is a program of the Hoffman Center for the Arts in Manzanita. Films are screened monthly throughout the year.