The Films of Kelley Baker
July 27, 2018 @ 7:30 pm - 9:30 pm
$5
Event Navigation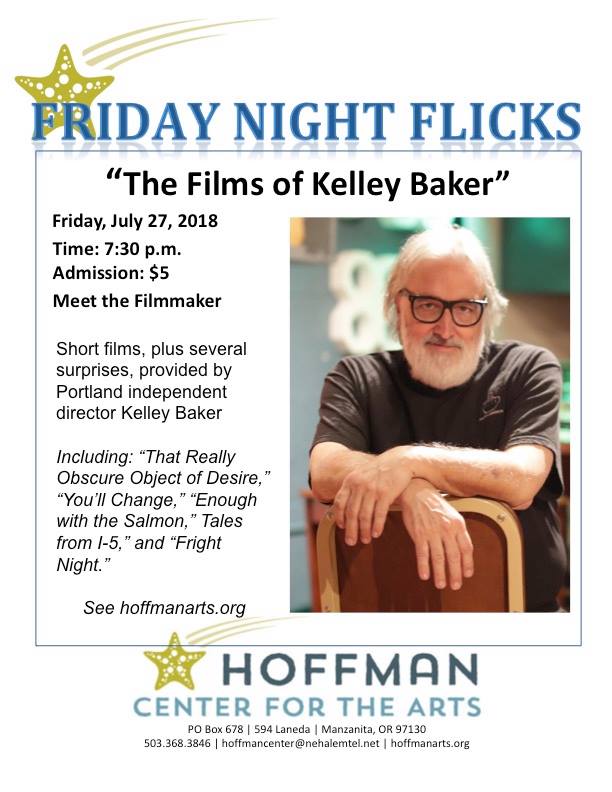 Hoffman Center to Feature Short Films and Surprises Friday, July 27
The Hoffman Center for the Arts in Manzanita will screen a set of short films by Portland-based independent filmmaker Kelley Baker Friday, July 27, at 7:30 p.m. Admission will be $5.
Baker will attend the screening to discuss his films and answer questions.
An Oregon native, Baker graduated from the University of Southern California film school. He has written and directed three full length features — Birddog, The Gas Café, and Kicking Bird — eight short films, and several documentaries.
His works have aired on PBS, Canadian and Australian television, and have been shown at film festivals, including London, Sydney, Annecy, Sao Paulo, Sundance, Chicago, Aspen, Mill Valley, and Edinburgh.
He also authored three books — Road Dog, and The Angry Filmmaker Survival Guide, Parts One and Two.
In addition to his own films Baker served as sound designer on six of Gus Van Sant's feature films, including My Own Private Idaho, Good Will Hunting, and Finding Forrester.