Wandering Reel Film Festival
October 26, 2018 @ 7:30 pm - 9:30 pm
$5
Event Navigation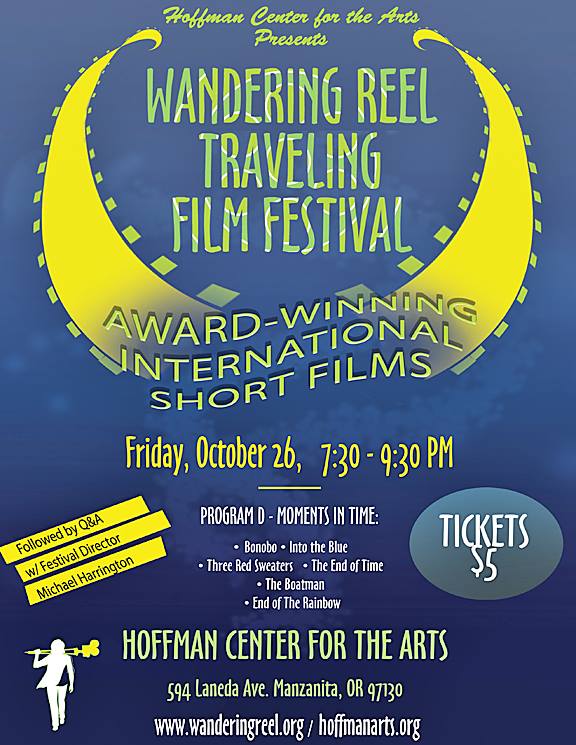 Manzanita Film Series Goes International Oct. 26
The Wandering Reel Traveling Film Festival returns to Manzanita Friday, Oct. 26 at 7:30 p.m., with a collection of six short international films at Hoffman Center for the Arts. Michael Harrington, director/curator of the festival, will attend the event to offer a Q&A session. Admission will be $5 at the door.
Built around the theme "Moments in Time," the program features a collection of inspiring short films that offer a peek at portraits of the seemingly mundane moments, memories, and dreams that play meaningful parts in peoples' lives
The films to be shown are:
"Bonobo" Directed by Zoel Aeschbacher (Switzerland, 2017)
When the elevator of their public housing breaks down, the fates of Felix, a disabled pensioner, Ana, a single mother struggling with her move, and Seydou, a young man passionate about dance, intertwine towards an explosive ending where their limits will be tested. (Narrative: 18 min.)
"Into The Blue" Directed by Antoneta Alamat Kusijanovic (Croatia, 2017)
Thirteen-year-old Julija and her mother flee their abusive household to find refuge on an idyllic Croatian island where Julija grew up. Emotionally scarred, Julija is desperate to reconnect with her best friend, Ana. But Ana is in love with a boy and Julija is no longer a priority. Ana's mounting rejection re-ignites Julija's wounds and family history, awakening the monster of violence she thought she'd left behind.
(Narrative: 22 min.)
"Three Red Sweaters" Directed by Martha Gregory (USA, 2017)
How our memories are changing now that we can document every moment of our lives.
(Documentary: 10 min.)
"The End of Time" Directed by Milcho Manchevski (Cuba, 2017)
That one hypnotic moment on a regular, unassuming Tuesday when you realize that time has stopped and the universe has been sucked into a single smile.
(Experimental: 5 min.)
"The Boatman" Directed by Zack Godshall (USA, 2015)
In Yscloskey, Louisiana, with the support of his wife of 71 years, Joseph Gonzales navigates the onset of blindness and painful memories in hopes of finishing the boat he started building decades ago.
(Documentary: 13 min.)
"End of the Rainbow" Directed by Laszlo Papas (England, 1983)
A bittersweet musical drama centered around a dejected jazz musician who is on the edge. He perceives a cold, black and white existence.
(Narrative: 15 min.)
More information on the Wandering Reel program is available online at www.wanderingreel.org.