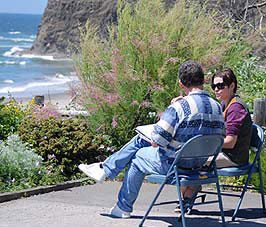 When David Greenberg published his first children's book "Slugs," he had no idea this iconic Oregon gastropod would lead to his favorite endeavor—the annual Oregon Coast Children's Book Writers Workshop.  Now in its 13th year, the OCCBW annually welcomes aspiring writers from all over the planet, to the water's edge, to learn from pros who make their living doing what they love—writing, editing and publishing books that capture the imagination of the next generations.
The faculty flies in from such exotic places as New York City to the tiny, but stunning town of Oceanside to lecture on all aspects of the craft and offer participants invaluable, daily one-on-one sessions to hone work in progress.  Many who have attended the OCCBW call it a "booster rocket for people wanting to get published," and some even get lucky enough to have their manuscripts purchased on the spot.
Beware, many who attend (the student return rate is 20-25%) fall in love with the Tillamook Coast. One story goes that an attendee ended up buying the B&B where she and her husband were staying for the week!
As if the favorable student/faculty ratio, small-town charm and easy access to beach walks is not enough, David also throws in evening wine tastings by some of Oregon's finest vintners and a farewell dinner a la chef David (he loves to cook).  Just one thing to keep in mind, the annual workshop is held in July—unlikely that any slugs will be lurking about for a cameo.