South County Destination Management: Kiwanda Corridor Project

The Kiwanda Corridor Project is an opportunity to leverage the County's assets to help local businesses succeed; to strengthen our region's economy; to protect our natural resources; and to improve livability for our residents and visitors of Pacific City by connecting recreation, commercial and residential places in Pacific City/Woods and resolving existing traffic and parking issues.
The project is one step in implementing the recently completed Cape Kiwanda Master Plan (2016) and the Pacific City/Woods Parking Management Plan (2019) – it will address several strategies identified in those plans:
Restructuring and improving the Cape Kiwanda parking lot, including a new Gathering Center that pays homage to one of Pacific Northwest's most treasured historic landmarks and natural resources; building new restrooms and all-inclusive shower facilities; upgrading garbage and implementing recycling facilities; and connecting multi-model transportation options including EV charging stations, public transportation, and bicycle parking.
Constructing the Cape Kiwanda Drive Multi-Use Path, from the Cape Kiwanda parking lot to Bob Straub State Park.
Reconfiguring Webb Park, including access improvements to Circle Drive.
Improving parking shuttle services.
Developing the recently acquired Jensen Property, including access improvements to Pacific Avenue and Sunset Avenue.
Completing development of the Nestucca Valley Community Alliance (NVCA) property as a community park.
The project will begin with an analysis of existing plans and review of the community's input solicited during the development of the Cape Kiwanda Master Plan and Pacific City/Woods Parking Management Plan.
Project Goals
The overarching goal of the project is to create a positive visitor experience without compromising the needs of local businesses and year-round residents. The project team identified several objectives to balance the needs of residents, local businesses and visitors:
Improve livability and user experience for Pacific City's residents and visitors
Provide efficient transportation and parking facilities
Provide options for parking
Improve wayfinding and enhance connections to the community
Provide safe and accessible pedestrian access
Provide varying beach experiences
Be fiscally responsible and sustainable
Facilitate alternative modes of transportation to and within Kiwanda Corridor
Minimize impacts on the environment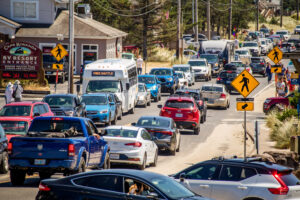 Schedule
Now through February – concept creation and analysis
February – an opportunity for feedback – more details to come soon
Spring – Summer 2022 – preferred concept and detailed design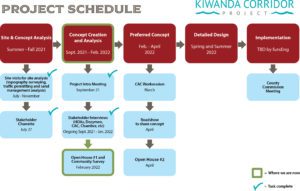 Project Updates
Opportunities for Input
Your input is important to the Kiwanda Corridor Project. Throughout the process, we will seek input from the Pacific City community on the alternatives to improve traffic congestion and local livability. Opportunities for learning about the project and provide input include:
Project Introduction Meeting (virtual)
Open houses
Business survey
Community survey
Project e-blasts
Let us know what you think!
Sign up for the project list to stay up to date!