South County Destination Management: Kiwanda Corridor Project

Project Overview
The Kiwanda Corridor Project is an opportunity to leverage the County's assets to improve local livability issues, including: increasing public safety; protecting our natural resources; promoting stewardship of the community; providing education on the history of the area; improving visitor experiences; encouraging longer stays; and attracting new visitors during the non-peak seasons to address local business community needs for more consistent and predictable revenue. The Kiwanda Corridor Project will create a comprehensive and coordinated plan to;
Cape Kiwanda parking lot: Restructure and improve the existing parking lot, including replacing restrooms, and upgrading garbage and recycling facilities.
Multi-Use Path:  construct a new continuous pathway along Cape Kiwanda Drive and Sunset Drive from the Cape Kiwanda parking lot to Bob Straub State Park.
Webb Park: Relocate the existing campground and create a new public parking lot with access improvements to Circle Drive.
Jensen Property:  Develop the recently acquired property, including access improvements to Pacific Avenue and Sunset Avenue at Cape Kiwanda Drive.
Nestucca Valley Community Alliance (NVCA) community park: Complete development of the NVCA Skatepark as a community park on the Tillamook Lightwave property.
Shuttle Services: Improve wayfinding and access to promote increased ridership.
Shorepine Village Boardwalk: Improve wayfinding and provide repairs to facilitate long-term usage.
The project is currently in phased detailed design, beginning with the Cape Kiwanda parking lot, a vault restroom at the Jenson Property, and possible engineering of the intersection at Kiwanda Drive and Beachy Bridge.
Project Goals
The overarching goal of the project is to create a positive visitor experience while meeting the needs of local businesses and year-round residents. The project team identified several objectives to balance the needs of residents, local businesses and visitors:
Improve livability and user experience for Pacific City's residents, local businesses, and visitors
Provide equitable beach and community experiences
Improve transportation efficiency and safety within the Kiwanda Corridor by promoting alternative modes of transportation, providing options for parking, and adding pedestrian connections
Improve wayfinding and enhance connections to the community
Provide safe and accessible pedestrian and bicycle access
Minimize impacts on the environment through sustainable, resilient and equitable architecture and infrastructure.
Prepare for and buttress existing natural disaster safety & evacuation plans
Be fiscally responsible and sustainable
Schedule
August 2022 – Board of Commissioner presentation and adoption
Next steps – Phased detailed design of project elements, beginning with Cape Kiwanda Parking Lot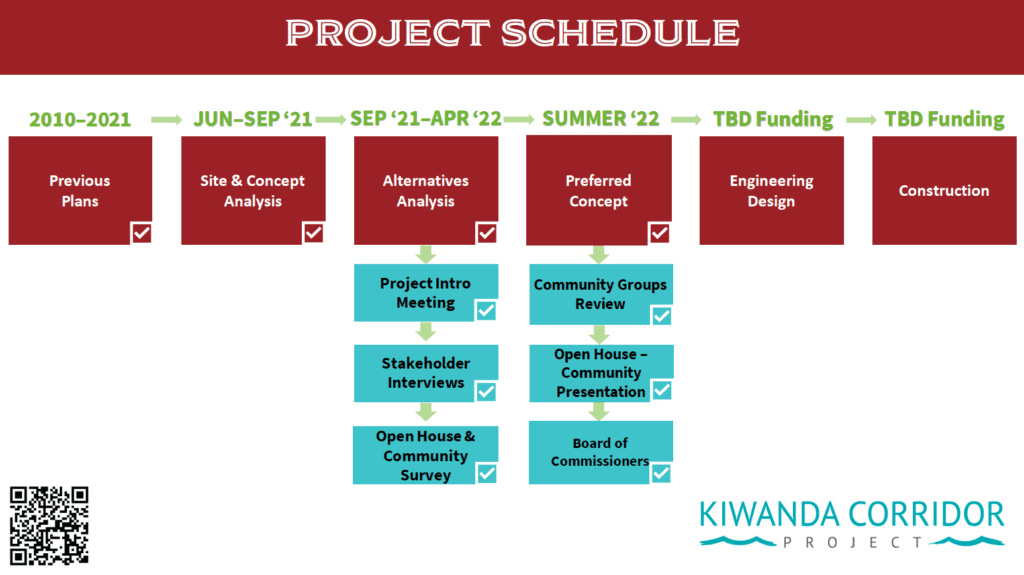 Sign up for the project list to stay up to date!
Project Documents