Tillamook Coast Life Blog
Eat where all the locals are talking about: Beach Wok
Tammy Lakey can barely recall a time when the restaurant business wasn't part of her life.
As a child, she went straight from school to her parents' restaurant where the bus driver dropped her off each day. Later, she would meet her husband-to-be, Timm Lakey, while they both worked in a San Diego restaurant. No surprise then, that two would also choose the restaurant business for their joint career.
The pair recently opened Beach Wok in Pacific City, their third restaurant in 23 years together.
"I think it was inevitable for this to happen," Tammy said. "It is definitely in the blood."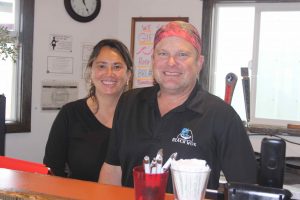 The pair began camping in Pacific City – a place Timm knew well from his family vacations as a boy – 20 years ago.
"We fell in love with it," Tammy said.
Beach Wok features a menu of Asian-inspired cuisine, but don't ask the couple to name a specialty.
"Everything is a specialty," said Tammy. "To be quite honest, there is not one thing that is better than the other; it just depends on what you like. All of our sauces are made daily. We don't precook anything. To say 'What is your specialty?' is kind of a trick. It's all special."
The pair do everything themselves – that is, cook, wait tables, concoct cocktails – they even bus the tables. And while they eschew the idea of a "specialty," they do offer a "special."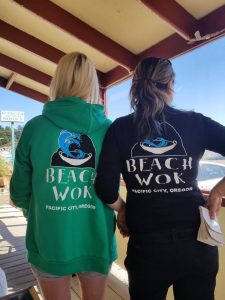 "We offer 15 different items and then we do a daily special for two weeks. These are recipes we create ourselves based our vision of the dish."
And there is one item on the menu for those who may not be inclined toward Asian fare. Tammy calls it the "just in case" offering.
"It's chicken strips with fries. That way there is a dish designed for anybody that doesn't want this specific food. It's not our top selling item, but we do sell a lot of it."
Follow Beach Wok to keep up with their specials. Open daily in Pacific City from 11:30 a.m. to 9 p.m.