Tillamook County is for the birds!
Between mountain peaks and sandy shores, the Tillamook region has a number of different ecosystems, attracting a variety of bird species. Check out our list for where to find them.
Deep dive into coastal birds
View birds flying over the ocean, sunning themselves on rocks offshore, gliding along open beaches, perched among sand dunes, floating along and hunting in estuaries or hanging out in wetlands and old-growth forests.
Seabirds, waterfowl and sharp-eyed birds of prey all make their homes in our region. Whether they stay for a season or stick around all year, these diverse species are worth seeking out, for visitors and locals alike!
Find ocean and bay birds at this rocky jetty leading to the open ocean. Just north of Garibaldi, Cedar Avenue becomes Barview Jetty Park Road. From there, you can turn left onto the short road to the parking lot.
Black Turnstone
Common Loon
Common Murre
Double-crested and Brandt's Cormorant
Pelagic Pigeon Guillemot
Rock Sandpiper
Ruddy Turnstone
Wandering Tattler
Western Grebe
Western Gull
Spot a variety of birds on the Tillamook Bay. From Oyster Drive off Highway 101, you can often catch a glimpse of shore birds like the spotted sandpiper, and black and ruddy turnstone. In the spring, terns and osprey are common.
Bald Eagle
Black Turnstone
Ruddy Turnstone
Caspian Tern
Osprey
Purple Martin
Spotted Sandpiper
Western Gull
Along the shores of the Tillamook Bay (near Bay City), through to the rivers and streams that stretch out from the Bay to the Tillamook city limits, you'll find plenty of interesting birds.
American Widgeon
Bald Eagle
Blue-winged Teal
Brant
Canada Geese
Great Blue Heron
Green Heron
Horned Grebe
Northern Pintail
Peregrine Falcon
Red Phalarope
Snowy Egret
Tundra Swan
White-tailed Kite
On a sand spit between Netarts Bay and the ocean, get a fine view of the water, surrounding cliffs and lots of feathered friends. You can stop at this prime bird-watching spot while you're driving the beautiful Three Capes Scenic Loop.
Brown Creeper
Cedar Waxing
Golden-crowned Sparrow
Gray Jay
Hairy Woodpecker
Red Crossbill
Red-breasted Nuthatch
White-crowned Sparrow
Wilson's Warbler
Enjoy free entry to the amazing Nestucca Bay National Wildlife Refuge, the only coastal location where Dusky Canada Geese spend winters and home to the world's entire population of Semidi Islands Aleutian Cackling Geese.
Common Nighthawk
Mountain Quail
Northern Pygmy-Owl
Northern Saw-whet Owl
Ruffed Grouse
Spotted Owl
Varied Thrush
Western Bluebird
Diverse terrain is a hallmark of this natural area where white sand beaches, mudflats, grasslands, dunes and a towering coastal forest all meet. Take the easy 1.5-mile loop hike and see it all, with opportunities to look for birds along the way.
Bald Eagle
Least Sandpiper
Semipalmated Plover Sanderling
Western Sandpiper
Don't miss the national refuge surrounding the iconic lighthouse! In this wooded area and the rocky cliffs it overlooks, you'll spot lots of birds gliding, nesting and hunting.
Bald Eagle
Black Oystercatcher
Cedar Waxwing
Common Murre
Dark-eyed Junco
Gray Jay
Pelagic Cormorant
Pigeon Guillemot
Varied Thrush
White-crowned Sparrow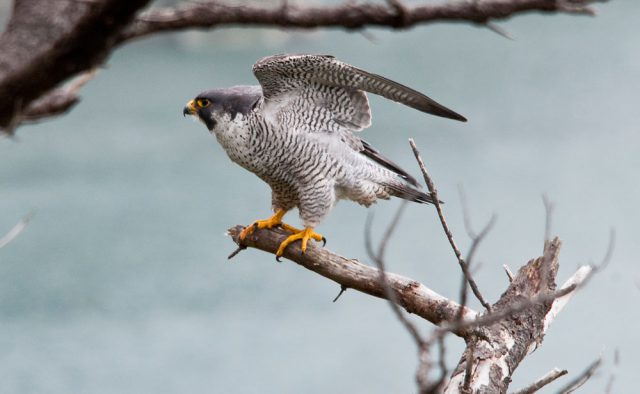 Walk the public pier or the path leading north along the edge of the bay to see herons, eagles, pelicans and much more.
American Widgeon
Bald Eagle
Brown Pelican
Bufflehead
Common Merganser
Great Blue Heron
Pigeon Guillemot
Purple Martin
The tallest waterfall in the Coastal Range, Munson Creek is worth a visit for the magnificent falls alone. But don't miss the variety of flora and fauna: the creek is an important salmon breeding ground, the forest is comprised of massive cedars and spruces—and there are birds peeking out from the foliage in every season.
American Dipper
Chestnut-backed Chickadee
Golden-crowned Kinglet
Hairy Woodpecker
Swainson's Thrush
Varied Thrush
Western Tanager
Wilson's Warbler
Winter Wren
Despite a less-than-appealing name, the Sewage Ponds are a wonderful destination for birders. In spring and fall, you'll find sandpipers along the banks, while birds of prey such as hawks and kites, are here year-round.
American Widgeon
Gadwall
Green-winged Teal
About ten miles east of Nehalem, you'll find some nice woodsy campsites and trails through old-growth forest. Whether you're staying overnight or just coming for a day hike, bring binoculars and keep your eyes peeled for a variety of birds!
American Dipper
Hermit Warbler
Mallard
Migrating Dunlin
Northern Pintail
Red-tailed Hawk
Western and Least Sandpiper
White-tailed Kite
Wilson's Snipe
While you observe salmon, steelhead and trout in the water, don't miss the birds of prey, songbirds and wading birds in the area.
American Dipper
Hairy Woodpecker
Hermit Warbler
Hooded Merganser
Adjacent to Cape Lookout State Park, the estuary at Netarts Bay has over 2,000 acres of water at high tide and about 1,500 acres of exposed land at low tide. The water's ebb and flow makes this location ideal for crustaceans to forage—and attracts the birds that eat them.
Brown Pelican
Bufflehead
Common Goldeneye Surf Scoter
Common Loon
Double-crested Cormorant
Eared Grebe
Great Blue Heron
Great Egret
Horned Grebe
Osprey
Pacific Loon
Pelagic Cormorant
Red-throated Loon
Western Grebe
Yellow-billed Loon
The first designated national refuge in the western United States, Three Arch Rocks is an important seabird breeding ground. Just south of Cape Meares and west of Oceanside, find three large rocks and six small rocks off the coast, home to 200,000 birds.
Brown Pelican
Common Loon
Cormorants
Surf Scoter
Western Gull
Western Red-necked Grebe
Birdwatching & Photography in Cape Meares