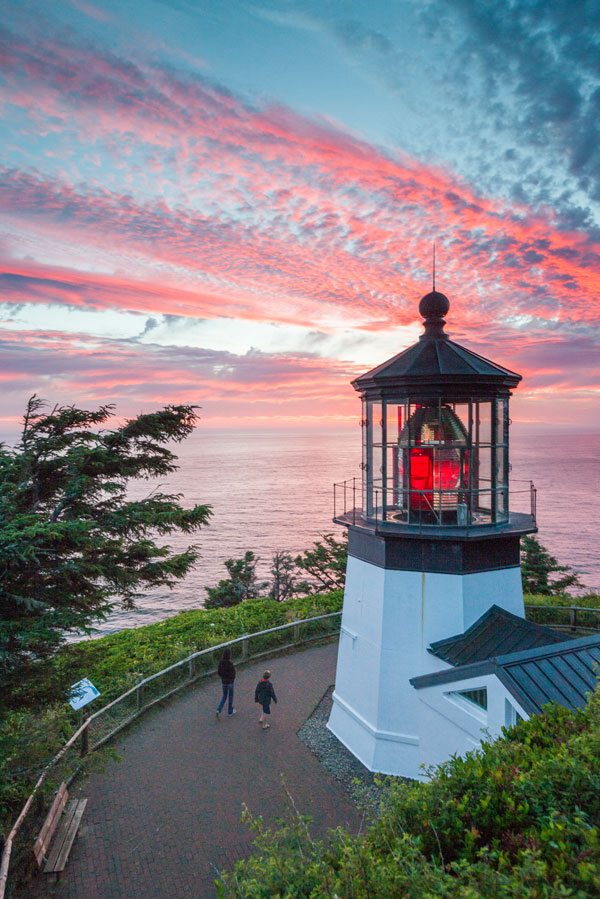 Breathtaking Cape Meares is home to one of the very last stands of native Oregon old growth coastal forest. Comprised of stunning vertical sea cliffs and rolling headlands of native Sitka spruce and hemlock, it is home to the Big Spruce (Oregon's largest Sitka). Birds of all kinds flock to the vanishing habitat encapsulated within Cape Meares' lush, yet rugged, environment.
Cape Meares forms a high, steep bluff on the south end of Tillamook Bay—just a few miles north of the city of Tillamook. The Oregon Parks and Recreation Department has declared the cape to be a State Scenic Viewpoint. You can get to know this area on foot, with over three miles of amazing hiking trails!
Be sure and visit Cape Meares National Wildlife Refuge, where you'll find an old-growth forest and cliffs overlooking the ocean, which attract nesting seabirds. This special park has been around since the 1930s, and is a huge draw for visitors to the Tillamook Coast. Don't miss it!
The park is open daily from dawn to dusk, and day use is free to the public. Don't be surprised if you see a peregrine falcon nesting in the cliffs, or tufted puffins and bald eagles foraging in the headlands.
Get out on the lake
Cape Meares Lake is a peaceful place to pass a pleasant afternoon. Pink water lilies adorn the water in summer and fall, making this a great setting to set down supplies and cast your line. Enjoy fishing for trout or bass, especially in the spring during spawning season.
You can also try out kayaking here—even if you've never done it before, take a lesson and learn the ropes!
Birdwatching & Photography in Cape Meares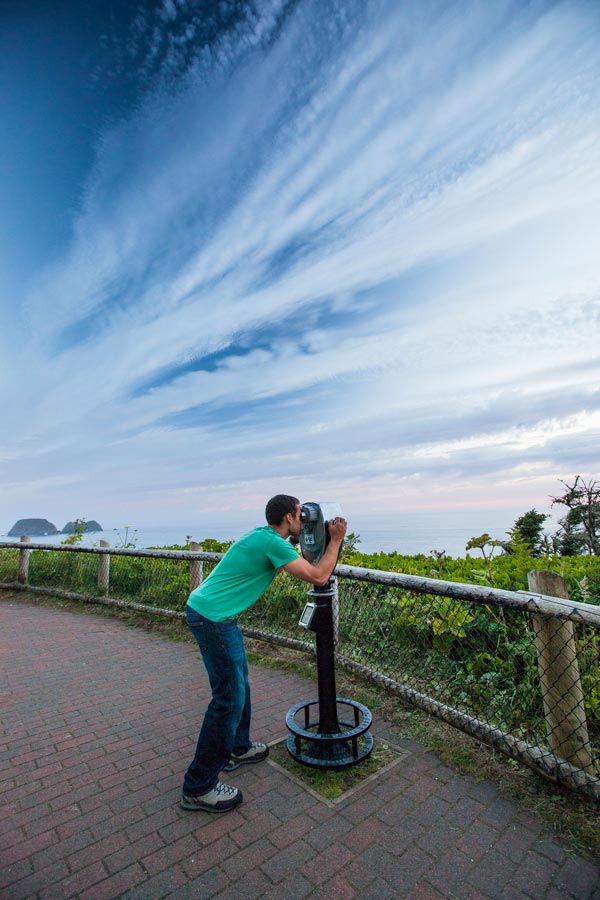 Check out the view from Cape Meares Lighthouse
Seasonally, you might catch glimpses of a gray or humpback whale from the vantage point of the Cape Meares Lighthouse. From the top, enjoy a panoramic view of the Pacific Ocean: you'll see rocky cliffs, beautiful birds and crashing waves far below you.
On the other side of the Lighthouse parking lot, you will also find the magnificent spiraling branches of the Octopus Tree, which is an Oregon Heritage Tree. Heritage Trees are those that tell a story, according to the Travel Information Council and Oregon Travel Experience. These trees often educate and may have historical significance; for example, some have survived major natural disasters or been shaped by ancient forces or communities.
The Octopus Tree, so named because of its multiple trunk "limbs," is both impressive—over 200 years old, nearly 50 feet around—and mysterious—experts don't know for sure what created the tree's unique shape. One theory is that the shape is man-made: some experts say Native Americans bent the branches horizontally while the tree was still young and used the resulting flat surface to hold canoes.
Other people believe the tree was formed by natural forces, perhaps extreme weather (high winds, heavy rain or snow) is responsible. Whatever brought the "octopus" to life, it's hard to dispute the tree is well worth seeing if you're at the Tillamook Coast.
And that's not the only tourist-worthy tree! Just up the road (there's a separate parking area), you'll find a trail that leads to a veritable giant known simply as Big Spruce. The largest Sitka in the state since 2007, this tree is almost 150 feet tall, close to 50 feet around and estimated to be about 800 years old.
Between wildlife and plant life, astonishing views and beautiful hiking trails, there's so much to do and see. You'll want to bring your camera; don't miss that one-in-a-million shot!