Tillamook Coast Life Blog
Kayaking for Beginners on Tillamook's Cape Meares Lake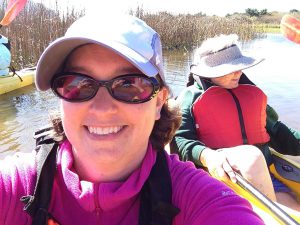 I will not capsize, I will not capsize. This chant goes through my head as our charmingly grizzled guide Paul from Kayak Tillamook launches me and my sea kayak into the sparkling, tranquil waters of Cape Meares Lake on a sunny September afternoon.
This is my first time kayaking in Tillamook in a one-person boat. I'm thrilled but a little nervous, even after Paul's hour-long instruction on kayaking basics and safety, including what to do if you capsize. Kayak Tillamook is the only outfit in the county that offers guided tours on lakes in the Tillamook Coast, and it's a great way for a newbie like me to gain more experience paddling.
As Paul guides our small group around the 120-acre lake I gain more and more confidence, my fear falling away with each paddle stroke. Paul stops often to regale our group with tales of the area's history, ecology and wildlife. We're fascinated to learn that the lake sits on the site of a circa 1906 upscale resort town, Bayocean, which was destroyed by coastal erosion in the 1930s. Other highlights include the lake's vibrant pink water lilies and a large beaver lodge.
When it's time to head back one of my fellow kayakers challenges me to a race. I grin and paddle for shore as fast as I can.
To reach the lake from the town of Tillamook, take Hwy 131 W/3rd Street, turn right onto Bayocean Road NW and go five miles. The lake sits next to the road. Parking is available along the roadside or at the end of Bayocean road.