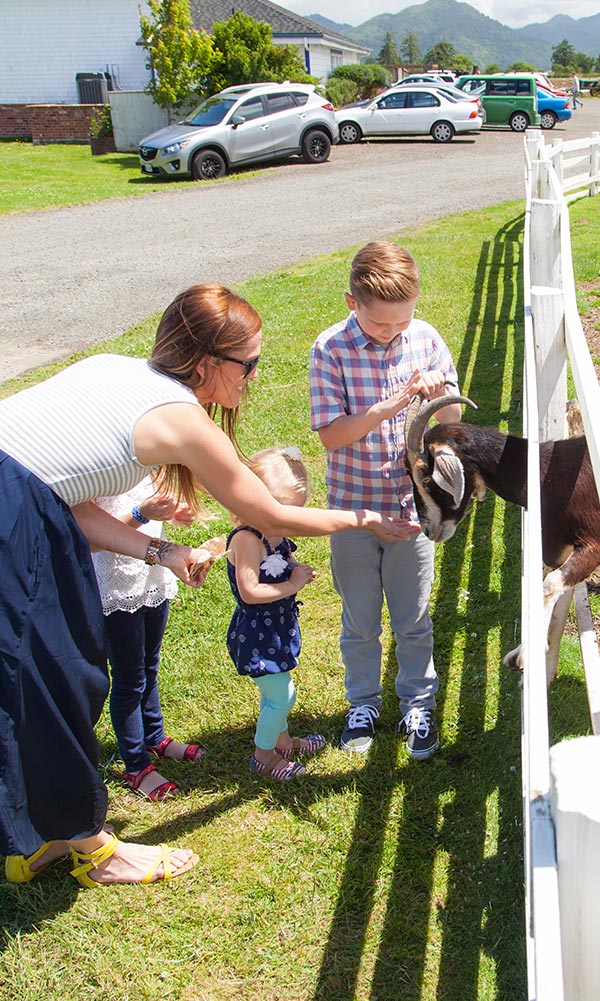 Just 90 minutes from Portland, Tillamook is home to attractions found nowhere else! As the biggest town here, Tillamook lends its name to our entire region—and features many of the landmarks and activities that make the area famous.
Finding good eats is easy-cheesy…
Take a tour of the renowned Tillamook Creamery for a taste of locally made cheese and ice cream (be sure to try their "squeaky cheese"). Surrounded by farmer-owned dairy farms, Tillamook is known for its cows. The factory, renovated in 2018, includes opportunities to learn about the farmers and animals who supply milk for the region's cheese—and it offers visitors a behind-the-scenes peek into the cheesemaking process.
But that's not the only cheese game in town. Just a few minutes' drive down Highway 101, the Blue Heron French Cheese Company offers wine and cheese tasting and farm animal viewing, including an adorable emu and super-cute goats.
While Tillamook is mostly known for its dairy cows, it's also known for beef: Debbie D's Sausage Factory, the Tillamook Country Smoker, and Werner Gourmet Meat Snacks are all great stops if you're in the mood for meat.
And, you can complement these tasty noshes with a pint of local beer. While you're in town, check out the newest branch of the Pelican Pub and Brewery! The original location in Pacific City draws visitors daily for its iconic beachfront patio and delicious beer. Now, you can enjoy Pelican's reputed brews and bites without leaving the Tillamook city limits.
Or, stop by de Garde Brewing for a selection of sour ales, made with locally sourced ingredients and aged to perfection. Founded by beer enthusiasts, de Garde's top priority is unique brews that reflect Tillamook's wild roots—something visitors just won't find anywhere else.
"Wild Fermentation Beer" in the Heart of Tillamook
Explore our cultural heritage
Visit the Tillamook Air Museum, housed in Hangar B, the largest wood structure in North America, built for blimps during World War II. Take a blast into the past at the Tillamook County Pioneer Museum, right in the center of town. See how early settlers to our region lived, and check out the stories we have from hundreds of years ago: myths, legends and mysteries from the past come alive in the museum.
You can also learn about the region's past at the Latimer Quilt and Textile Center. Check out a mix of vintage textiles and contemporary fiber art by local and nationally recognized artists. There's an extensive research library and educational resources on the tradition of yarn crafts and fabric art, making this a unique stop on your visit to the Coast.
Get out there!
There's plenty of outdoor fun in Tillamook. Hit the links at Alderbrook Golf Course, which offers an 18-hole, par-69 course surrounded by incredible mountain vistas. Or take a short hike to view the tallest waterfall in the county at Munson Creek Falls, just south of town. The Tillamook Forest Center is another great stop for fresh air and a little exercise: learn about major forest fires and reforestation efforts at the visitor center, and enjoy lessons on native plants and wildlife while you wander the adjoining trails. You can also do a little climbing! Ascend the 40-foot-tall replica of a fire lookout tower on site. Once you come down, make your way across the awesome 250-foot suspension bridge to the Wilson River hiking trail.