de Garde Brewing
de Garde Brewing is a unique and delightful rural brewery, specializing in sour ales. The brewer's focus however, is on spontaneous fermentation inspired by European farmhouse brewing practices. Their world-class craft beers draw on historic traditions and experimentation.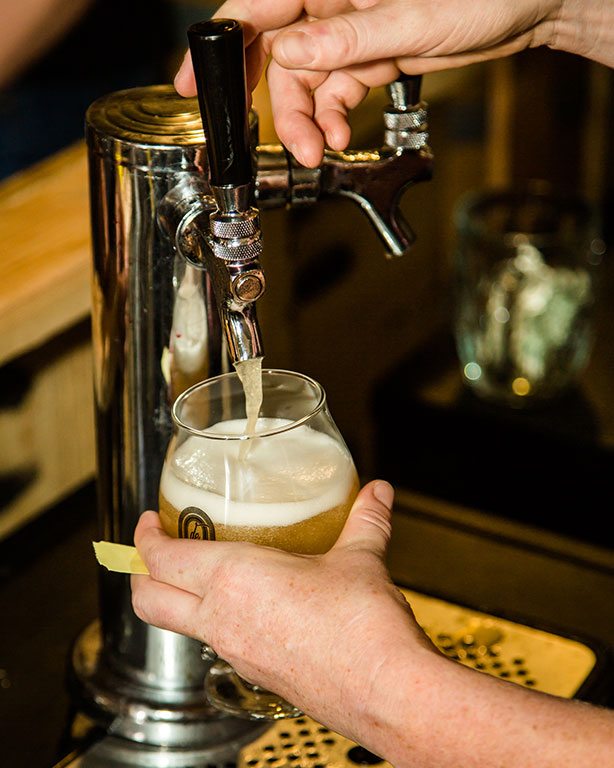 Tasting room offers several dozen varieties of wild beers
Their tasting room offers a rotating list of the different types of draft beer they produce for sampling. They have several dozen varieties of wild beers including Berliner Weisses (with a variety of fruit additions), and Saisons of the ale variety.
The brewery set up shop in the Tillamook Coast in order to use ingredients from the region. As owner Trevor Rogers has said, "The beer we make would be very different 50 miles up the coast, 50 miles down the coast or 50 miles inland."
de Garde uses microbes and naturally occurring yeast from the area in order to brew: part of their philosophy is to use only natural processes. They don't add laboratory cultured yeast to ferment the beer, instead opting to cool the wort (the liquid extracted from mashing the grains, containing the brew's sugars) without artificial additives. The brews are then fermented in oak barrels for anywhere from three months to three years!
If you find one you like, they offer bottles for sale. Get those bottles while you can, as invariably de Garde Brewing is growing in popularity and the consumer demand for their unique ales tend to empty the kegs almost as soon as they are produced! It is not uncommon for their kegs and bottles to sell out on release days.
In order to accommodate increased demand, the brewery has installed three 1300 gallon foeders and two 1700 gallon foeders. A foeder (pronounced food-er) is essentially a large barrel. Usually, the term is reserved for barrels significantly larger than an average beer barrel—often about three times the size.
Beer you'll want "for keeps"
de Garde, meaning; "for keeping" is an appropriate name for this coastal brewery, as everyone that tries their ales want to keep some for themselves. de Garde Brewing is open Thursday through Sunday for your enjoyment. Please be aware that at this time, minors and pets are not permitted inside. Well-behaved pets are, however, allowed on the patio.
Tillamook County offers a brewery that creates a plethora of distinguished ales, sure to please even those with the most discriminating palate. Be sure to stop by when you're in town!
"Wild Fermentation Beer" from the Coast