Blue Heron French Cheese Company
This charming vintage farm has been a milestone on the Tillamook Coast for more than 30 years. Its picturesque scenery stretches for 40 acres, inviting visitors to get a taste of what life on a farm has consisted of for the past several decades. Originally a Grade A Jersey farm, it was purchased in 1978 to make its now-famous brie cheese. The 1930's Dutch colonial barn housing the deli and gift shop has a distinct Old World feel, it's like stepping back in time.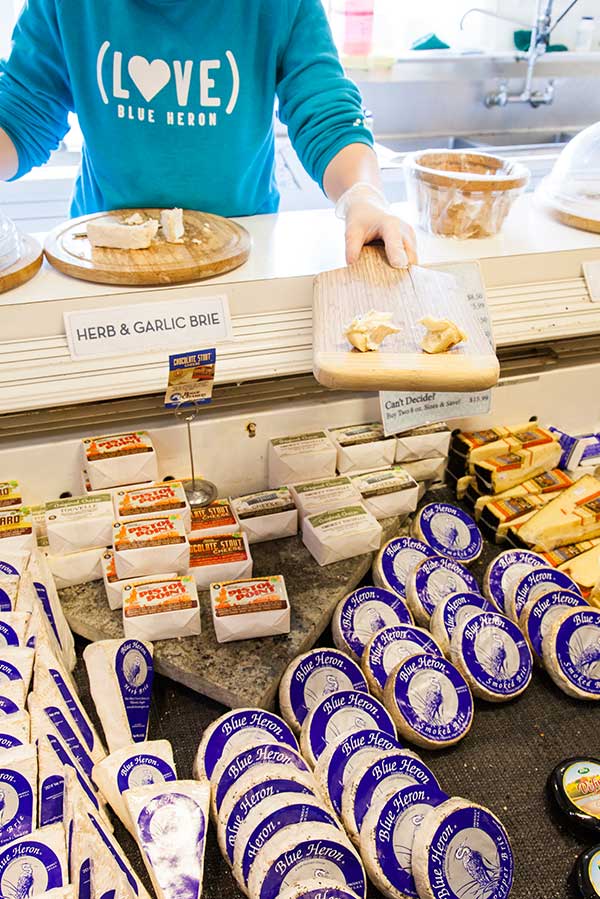 A phenomenal petting zoo for all ages
Outside of the Blue Heron French Cheese Company you'll find old-fashioned farm equipment and tractors that hail from a much earlier period when all farming was done by hand. A phenomenal petting zoo gives guests a chance to get up close and personal with many different farm animals, from goats and donkeys to chickens and ostriches. Get some food from inside the barn and feed the animals yourself! It's a real treat for children and adults alike, who otherwise might not see these creatures at such close range.
Over 250 Pacific Northwest wines and specialty cheeses
Inside you'll discover even more delightful treats, including daily wine and cheese tastings. Blue Heron's cheese is famous and pairs nicely with a wide selection of Oregon wines. With more than 250 select Pacific Northwest wines and specialty cheeses to choose from, you won't leave without finding something to take home with you. Or peruse the novel collection of exquisite gifts in the gift shop. If you're hungry, Blue Heron French Cheese Company is the perfect spot for lunch, with its hearty, homemade soups, fresh-baked bread, salads and gourmet sandwiches. There's something to eat for the whole family. Bring home a custom-made gift basket stocked with all your favorite goodies.
Family-friendly events
Every year the Blue Heron French Cheese Company hosts a variety of fun, family-friendly events that include a Fourth of July Celebration and the Old Iron Show in August, which attracts visitors from all over the Pacific Northwest who have a fascination with old iron machinery.