Tillamook Coast Life Blog
Blue Heron Cheese: Sampling their way to the visitor experience
Jessica and Denny Pastega, daughter-father team at the Blue Heron
Jessica Pastega Bush can't recall a time when the Blue Heron French Cheese Company wasn't a part of her life. Inspired by a trip to Europe where they discovered the small farmsteads specializing in wine and fresh French cheese, mom and dad Denny and Chris Pastega opened the shop the same year, 1979, they welcomed Jessica into the world. For Jessica it proved to be the setting for an idyllic childhood.
"I have two older brothers and we sort of grew up here," Jessica recalls. "We have lots of memories of playing on the rope swing up in the barn loft. We'd take some of the bad cheese and start our own little fake cheese shop upstairs in the loft." (To which, Denny scratches his head and asks, "really?")
She was even on hand to help Denny start the petting zoo, bringing home Pierre the Angora goat as the first star attraction. So it's no surprise Jessica grew up to be the general manager and buyer.
"It's been such a great experience working with my dad side by side every day," she says. "I'm here almost every day."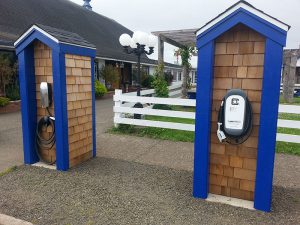 Her number one task? To make sure a visit to the Blue Heron is a memorable one, not only for the wine tasting and deli, but for the music, the shopping, the animals and the nearly 100 specialty items that are yours to sample – for free, no less. Blue Heron also just added two electric car charging stations, one for a Tesla, one for other makes of E-cars.
"We want to make their visit an experience," says Jessica. "We have old farm equipment and old trucks. We're in the process of enlarging the wine department. We do a first Friday event, bringing in local vendors with music and wine specials. We just really like to create an experience."
And visitors notice.
"People really like the Blue Heron," she says. "They think it feels like it is a family establishment."