Tillamook Coast Life Blog
Milk in glass bottles? Bennett Family Farm delivers
One of the best things about running Bennett Family Farm? "I can have chocolate milk whenever I want." says farmer Levi Bennett with a smile.
Three generations ago, Levi's grandfather moved to Tillamook with a young family and a dream of providing milk for home delivery. In turn, Levi's father eventually took over the family dairy farm, and Levi recalls helping out from the age of 5, and milking by himself by age 14. Then Levi left to do his own thing for a while, but he couldn't stay away.
In 2013, Levi returned to Tillamook to farm and start a home delivery service for their farm fresh milk. Now, after a lot of hard work, Levi and his wife Courtney have made his grandpa's dream a reality.
Levi recounts that the most rewarding delivery is when he pulls up to a customer's house and there are kids in the window, and then getting to hear that it's a highlight of the kid's week.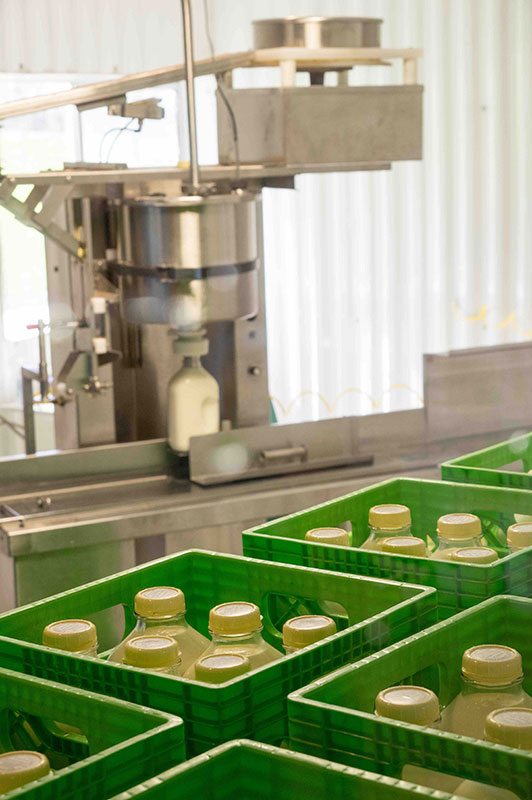 For the best flavor and health benefits in their milk, Bennett Family Farm offers whole milk that is rapid-pasteurized but not homogenized, bottled it in returnable glass containers, and delivered within 24 hours. Find their fresh milk in over 20 stores in the region, including at the Tillamook Cheese Factory. Their milk is also featured in gourmet ice cream at Buttercup in Nehalem, in a divine chocolate pot de crème desert at Blackbird in Manzanita, and several other restaurants.
Weekly home delivery is available in Tillamook County. Fill out the online order form or simply call 503-815-1974.