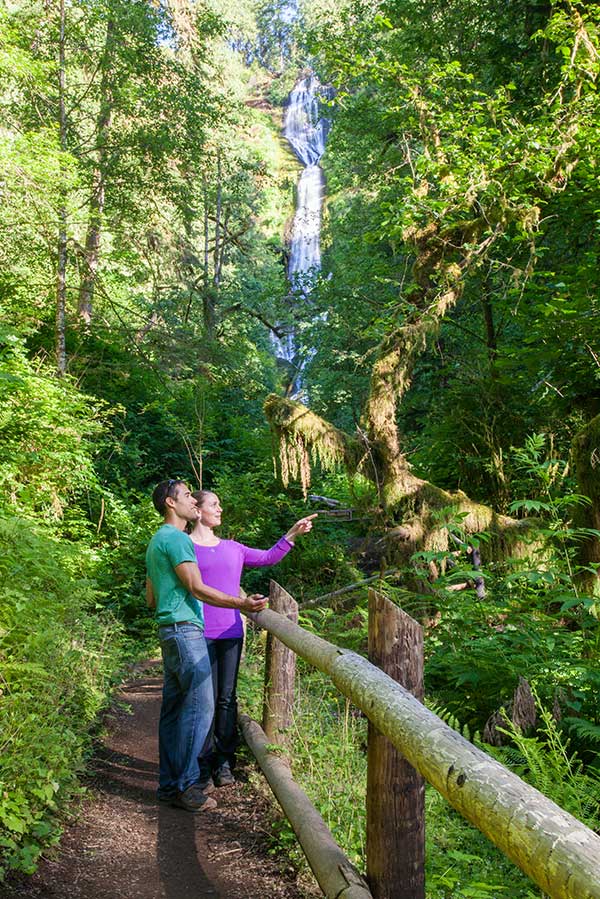 A beautiful Tillamook hiking trip
The sound of rushing water among lush green foliage and crystal blue skies is enough to entice anyone to make the seven mile trip south of Tillamook to hike Munson Creek Falls. Its stunning 319-foot drop makes it one of Oregon's largest waterfalls and the tallest in the Coast Range, and yet another valued prize of the impressive Tillamook Coast.
Home to Ancient Red Cedar and Sitka Spruce
Breathe in the cool air that surrounds the falls, renewing the moss-covered forests that surround it. Munson Creek Falls State Park is home to the ancient red cedar and Sitka spruce, including one of the country's tallest remaining Sitka's at 260 feet. The waters underneath the falls are a vital spawning ground for salmon. During the late fall, watch the waters to see these colorful salmon spawning just below the surface.
The waterfall is accessible for all ages
The moderate hike to reach the base of the waterfall is accessible for all ages and rewarding for every level of hiking enthusiast. A simple half mile stroll along the lower trail will reveal gorgeous views of the fall from its base, along with a quaint picnic area perfect for an afternoon lunch underneath big leaf maple trees.
Paradise for photography-lovers
The Munson Creek Falls State Park transforms itself every season, unearthing new splendors and making the hike worth the effort any time of year. It's great for a family day adventure, and it's paradise for any photography lover. There isn't any RV parking at the trailhead, but you will find ample parking for regular vehicles.