Hiking in Oregon on Coastal Trails
Tillamook County offers numerous opportunities for hiking in Oregon on Coastal Trails. Most of these hiking destinations are too beautiful for words. With a wide variety of distances suited for a variety of experience levels, there is a trail for everyone. From the novice to the experienced, Tillamook County has the perfect trail for you.
Oregon Coast Hiking Trails
Some popular favorites include:
Want to watch whales while hiking in Oregon?
No problem. Cape Lookout Main Trail route travels through a lush coastal forest of rare old-growth Sitka spruce to the end of scenic Cape Lookout in Cape Lookout State Park. Along the way there are magnificent views of Cape Meares to the north and Cape Kiwanda to the south. Gray whales can be seen December through April as they near the cape on their semiannual migrations.
Do you want to hike in Oregon while learning some history?
Neahkahnie Mountain trail is rumored to run directly above the location where Oregon's first European settlers arrived. The Neahkahnie Mountain Trail has historical significance and a beautiful ocean view to boot. This three-mile trail leads hikers across Neahkahnie Mountain to a gorgeous beach view of the Tillamook Bay region. The trail is located 28 miles north of Tillamook on the east side of Highway 101, and is open year-round.
You can also check out the historic Cape Meares Lighthouse. Enjoy a short, paved hike with viewpoints over the cliffs (do some birdwatching while you're here!) and make your way down to the lighthouse. Take a tour through the tower, get an amazing view of the ocean and learn more about this landmark and its history.
There's hiking in Oregon on Coastal Trails for every one in Tillamook County. Come walk the trails!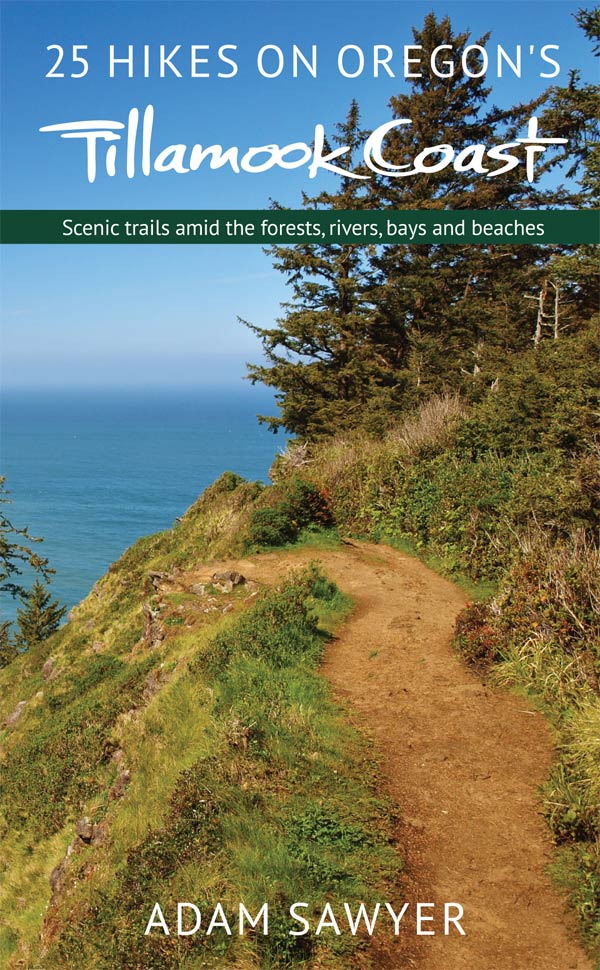 Get the Guide: 25 Hikes on the Tillamook Coast
Would you like a detailed look at the best hikes on the Tillamook Coast? Purchase 25 Hikes on the Tillamook Coast here.
About the Book: Hiking expert and travel guidebook author Adam Sawyer shares his choices for the best hikes on Oregon's Tillamook Coast. From thigh-pumping trek to the top of Neahkahnie Mountain to a leisurely stroll through Kilchis Point Reserve, hikers will find the trail just right for their adventure in this 90-page guide.
Hike Cape Lookout State Park