Tillamook Coast Life Blog
Top 10 Spring Break Adventures
Spring is in the air and it's time to start thinking about your vacation activities! Oregon's Tillamook Coast is the perfect place to enjoy some fun and relaxation during this beautiful time of year. There's so much to do here, you might need to spend more than just one week in this beautiful coastal paradise. To help plan your trip, we've put together a list of some "can't miss" activities on the Tillamook Coast. Without further ado, here is our list of "Tillamook Coast's Top 10 Spring Break Adventures!"
---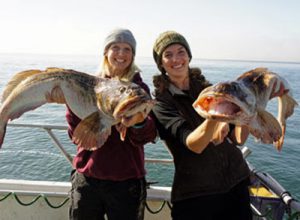 #1 Guided Fishing Excursions
Toss a hook in the water with one of the numerous professional fishing guides on the Tillamook Coast. From deep sea fishing for ling cod, to casting a line for some fresh steelhead, the opportunities to bring home some delicious coastal bounty are endless. Book a Charter or Find a Guide
---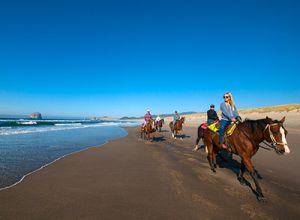 #2 Beachside Horseback Riding
Saddle up! Don your 10 gallon hat and leather chaps, it's time to do some horseback riding. Pacific City is your destination of choice for this fantastic family activity. With trips through Bob Straub State Park and along the sandy shore, this is an adventure that the whole family will love! Reservations & More Info
---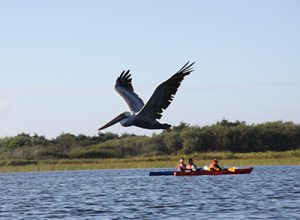 #3 River & Estuary Kayaking
The next best thing to being in the water is skimming along, silently, just above it. For those who want to enjoy the numerous waterways of the Tillamook Coast, we recommend a kayaking trip. Check out Kayak Tillamook's awesome selection of rental packages. There are still some spots left for the "Backwaters of the North Fork" trip! Book a Tour & More Info
---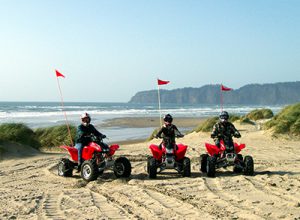 #4 ATV Dune Rides
Need a little more speed for your coastal getaway? Head south toward Sand Lake Recreational Area. This is a premier destination for ATV riding and off-road adventure. Rent your quad or dune buggy at Sandlake Tsunami ATV Rental and then head out to the dunes. This should amp up your spring break! Rentals & More Info
---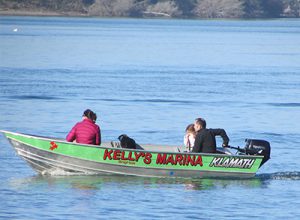 #5 Crabbing on the Bay
Mmm…fresh crab! We know you love to eat them but do you know how to catch them? Visit Kelly's Brighton Marina and you'll be able to do both! Bring the whole family along and let the professionals at Kelly's guide you on an adventure learning all about the process of harvesting fresh crab. Return to the dock and cook your catch right on the edge of beautiful Nehalem Bay! Reservations & More Info
---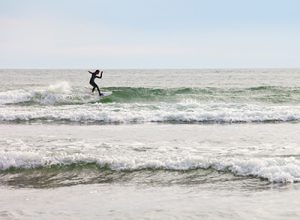 #6 Professional Surf Lessons
The surf is up! There are so many great places along the Tillamook Coast to take advantage of the Pacific's waves. If you're new to the sport, spring break is the perfect opportunity to get acquainted with this fantastic activity. Let Moment Surf Co. of Pacific City teach you everything you need to know to get in the water safely and confidently. Offering board rentals and professional lessons, this is a great way to get started in the world of wave riding! Reservations & More Info
---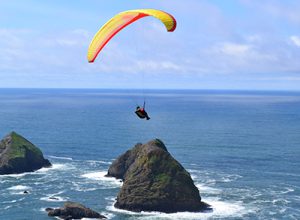 #7 Mountain Paragliding
The time has come to take to the air! The beautiful spring skies of the Tillamook Coast aren't just for our feathered friends. Discover Paragliding offers an amazing trip from Tillamook's own, Sollie Mountain. Enjoy the gentle glide across the lush and scenic valley and then recharge your body by dining at one of the fantastic restaurants located in this delightful coastal community. Reservations & More Info
---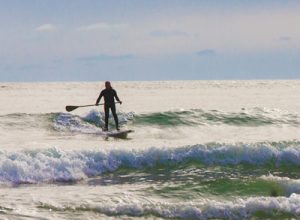 #8 Stand Up Paddleboarding
Hit the water with one of the fastest growing watersports in the world, stand up paddle boarding, or SUP! Take a trip to north Tillamook Coast, and visit SUP Manzanita, to book a lesson or reserve an adventure tour. If you want to explore the coast's waterways but don't want to sit in a kayak all day, try SUP. It's a great way to exercise your entire body and still stay right in the middle of the river!
---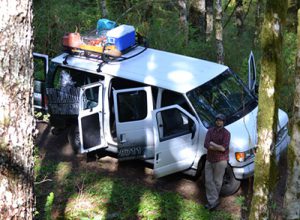 #9 Coastal Waterfall Discovery
For all those hikers out there; we haven't forgotten you! Tillamook Coast is home to some of the finest trails for stretching your legs and taking in the natural wonders of the Pacific Northwest. One of the area's crowning jewels is its collection of breathtaking waterfalls. Since it's not always the easiest task to find them, be sure to lace up your hiking boots, wear raingear and get ready to do some exploring! Pick a hike and start walking.
---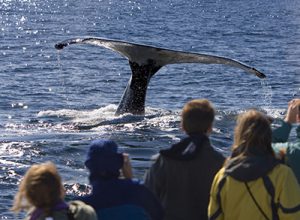 #10 Oregon Coast Whale Watching
The whales are coming! The last week of March is prime time for viewing these magnificent creatures as they make their way to Alaska. Northbound gray whales typically maintain a distance of around 1-1/2 miles from the shore. If you'd like to get even closer, get a group of friends together and contact Garibaldi Charters for a boat based whale watching adventure. This is a fantastic trip for those who want a little extra salt spray while watching these extraordinary animals. Space and dates are limited so make sure to call ahead to reserve your seats. More Info
---
Thanks for reading "Tillamook Coast's Top Ten Spring Break Adventures!" We hope you had as much fun reading it as we did writing it. Now, we'll let you get busy packing, it's just about time to hit the road and check out some of these fantastic destinations. Here's to a fun and adventure filled spring break on the Tillamook Coast. Cheers!