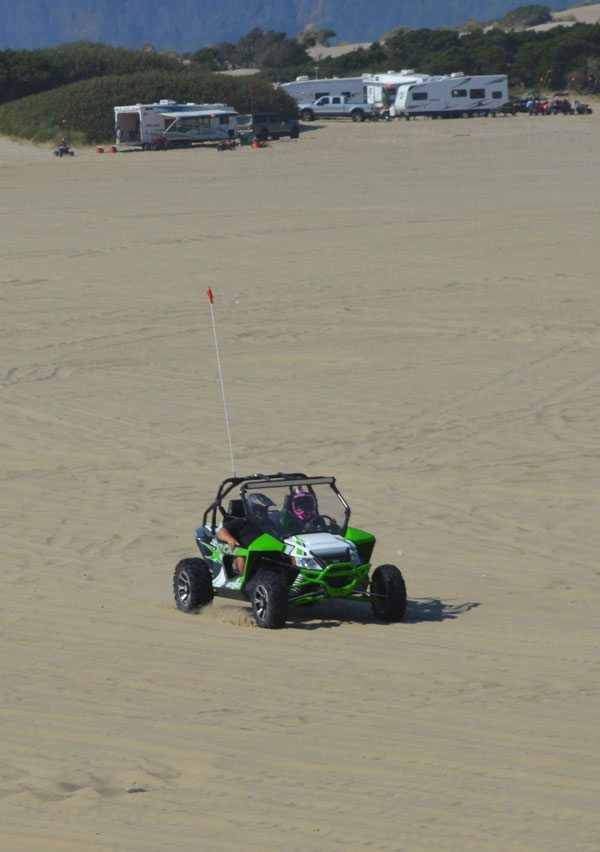 A few miles North of Pacific City and Cape Kiwanda is Sandlake, Oregon. It is surrounded by a forest of coastal mixed conifer and set pleasantly alongside the Pacific Ocean. Don't let this quaint little town fool you, though: it is filled with the excitement of roaring dune buggies and other exhilarating all-terrain vehicles.
Rent a quad or mini dune buggy and have a blast
The Sandlake Dunes are scrunched right along the Three Capes Scenic Route. You can rent a vehicle from Sandlake Tsunami ATV Rental, LLC and ride the dunes for yourself. Be prepared: you'll need an Off-Highway Vehicle (OHV) permit from the state of Oregon to drive around the dunes. Check the Oregon Forest Service website or the Sandlake site for more details. Be safe and be sure to follow all instructions the rental facility outlines for you. And it's all more than worth it: the views are spectacular here, with Cape Lookout, Sandlake Estuary and the Pacific Ocean in clear view.
Surrounding the dunes is a coastal forest, full of evergreen trees. The dunes extend from the woods to the ocean, making a visit here a distinctly Northwestern experience. (The Oregon Coast is known for uniquely bringing together different ecosystems and terrain—from forest, to mountains, to dunes, to ocean, to grassland.) Experience the meeting place of these different coastal worlds in Sandlake.
1,076 acres of open sand dunes just waiting to be explored
The Recreation Area encompasses 1,076 acres of open sand dunes just waiting to be explored. There is a year-round campground (which has direct access to both the dunes and the beach) and a day use area for your enjoyment. Because Sandlake is right off the water, its climate has strong marine influences. Expect cool summers and moderate winters; colder months get rainy, while warmer months invite lots of fog. So, pack layers any time of year you're planning to visit!
Sandlake is also host to two other campgrounds, the East Dunes and West Winds, with nearly 60 additional campsites. If the Recreation Area grounds are booked up, try one of these spots! Sites here can't be reserved in advance, so you'll have to come early and scope out what's available.
Check out nature while you're here
Near the Recreation Area is the Sand Lake Estuary, which is a great place to swim, fish, crab, kayak, hike and view various wildlife. The timeless state of this 900-acre estuary provides homes to many species of waterfowl and seabirds: over 200 bird species have been identified on the refuge. During the fall and winter migrations, you'll find hundreds of thousands of geese, ducks and swans. When water levels are low, during the summer, marsh-nesting birds appear, such as gulls, terns, herons, egrets and grebes. Keep an eye out for rarer species like the Yellow-crowned Night-heron and Tricolored Heron.
The refuge also attracts some impressive birds of prey. Look for Snowy Owls and Rough-legged hawks in the winter, and Bald Eagles year-round.
Come to Sandlake for the dunes, and the plumes.