Oregon Coast Crabbing
The bays and rivers of Tillamook are home to plenty of scuttling (and succulent) crabs. Bring your bait and head down to the water to catch your own!
Catch of the day
There are five rivers that flow into Tillamook Bay, producing some of the best bay fishing, clam digging and crabbing west of the Mississippi. Nehalem Bay, Tillamook Bay, and Netarts Bay all have local marinas where boats and equipment can be rented and bait purchased.
Oregon Coast crabbing is said to be best in the months that end with an "r", meaning that fall and winter (October, November and December) are the best seasons to secure the delicious Dungeness crab.
It's legal to catch these scuttling crustaceans any time of year, as long as you're fishing in beaches, tide pools, piers and jetties. However, the rules change if you're crabbing in the ocean. Be sure to check your ocean fishing plans against the Oregon Department of Fish and Wildlife's calendar, and look into regulations to ensure you have an appropriate license.
Guided Dungeness crabbing
Kelly's Brighton Marina offers a guided experience. Since 2010, Kelly and Janice Laviolette have been at the helm of this fun, iconic crabbing hub. Well-versed in fishing, crabbing and teaching both to beginners, the Laviolettes love sharing their passion for Oregon with visitors. Kelly's will lend you all the gear you need, and they create a welcoming environment for all ages.
Grab your own crab
In general, boat crabbing tends to have a higher yield, but dockside crabbing is easier and more accessible. You can harvest crabs directly from the docks at the marinas. Secure the necessary supplies for Nestucca Bay in nearby Pacific City. Other good options in Tillamook County include Garibaldi Marina, Wheeler Marina, and Netarts Bay Marina.
Plan wisely. The best time of day for crab is during "slack water"—peak high or low tide. Head out with your crab pots and bait, plus well-marked buoys so you can easily tell which pots are yours after the lines are cast.
Secure the bait to the gear (fresh or slightly rotten meat can work well; crabs have a great sense of smell, and pungent foods will pique their interest). Tie the end of your line to the dock and toss your crab pot in the water to get started. Leave things be for at least half an hour. With a little luck, there will be some crabs waiting for you when you haul up your line!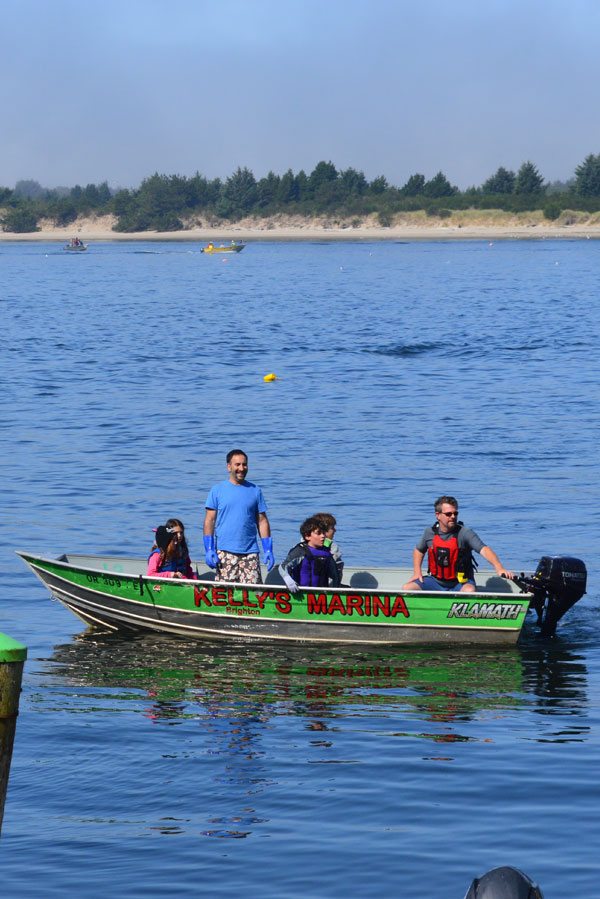 Catch Dungeness Crab at Kelly's Brighton Marina
Clean, cook & chow down
Once you've got your clawed compadres out of the water, your work is cut out for you. Avoid getting pinched by holding the crab by its "armpits," just behind the claws. Sort them (you can only keep male Dungeness crabs, females must be released) and measure them. If the crabs are too small by state standards, you'll have to let them go. Check with the Fish and Wildlife Department for regulations.
Good, fresh crab doesn't need too much seasoning. The natural flavor and tenderness of the meat are more than enough to make this a meal you won't soon forget! Boil or steam the crab in a big pot of salty water before you crack the shell. Then you'll need to "clean" them, removing all of the less than appetizing bits. The crab's meat will have to be liberated from their protective armor before mealtime, so get some good crackers and a small fork or pick, and get to work Enjoy the sweet fruits of your labor (that some say tastes a bit like popcorn) as-is, or with some lemon and butter. Use leftovers to make crab cakes, or add to a seafood stew—you won't want to leave one morsel behind.  
Didn't make a catch today?
That's okay: the staff at Kelly's Brighton Marina and will still feed you! They have a live well of Dungeness crabs, which they'll cook up if you strike out. You have nothing to lose when it comes to crabbing in Tillamook County.
Here, everyone's a winner for a crab dinner!