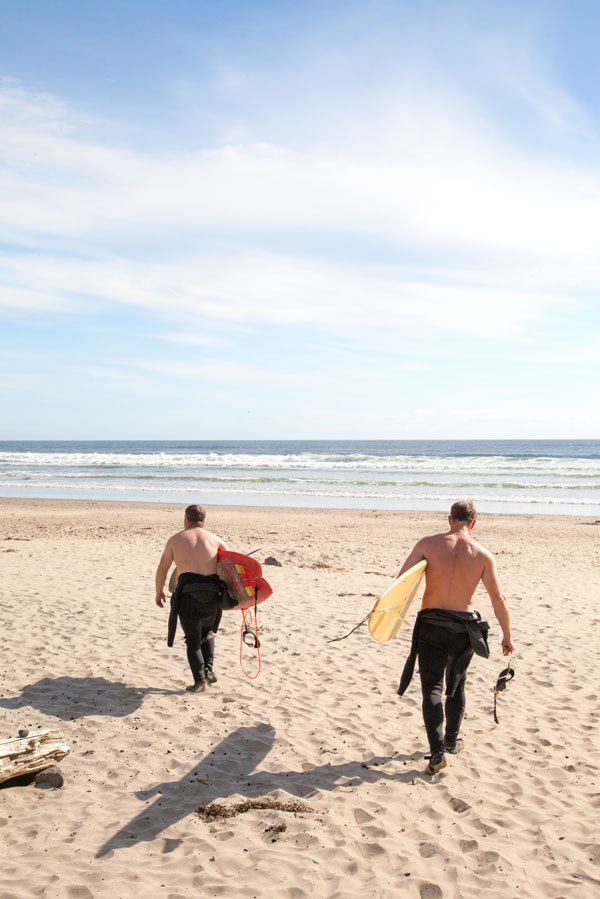 Oceanside is built upon a steep hillside that overlooks the beachfront and offers stunning views of the Pacific Ocean. A small detour from the Three Capes Scenic Route will take you here. As you walk along the beach, you will discover a tunnel through one of the vertical sea cliffs leading to yet another beautiful beach to explore.
The village restaurant, Roseanna's Café, provides spectacular views from its windows and offers beachcombers a full sit-down restaurant dining experience. Steamer clams, oysters, chowder and decadent desserts are staples of this tasty menu.
Download Top 10 Things to Do in Netarts and Oceanside
The National Wildlife Refuge is the first west of the Mississippi
Less than a half mile away is Three Arch Rocks National Wildlife Refuge, the first National Wildlife Refuge established west of the Mississippi. Three Arch Rocks hosts the only site on the North Coast for pupping steller sea lions. It is also home to the largest breeding colony of tufted puffins, recognizable by their orange beaks and long yellow heads. In the spring you will hear the raucous calls of more than 100,000 nesting common murres.
Enjoy some quiet time
Go on the iconic Bayocean Spit hike, where you'll likely enjoy some solitude. It's four miles of tree-covered sand, nestled between the Tillamook Bay and the Pacific Ocean. Experience nature here: you can go clamming or watch (and listen) for rare birds. Learn a little about the area's history before you go.
Another place you'll find quiet is on the water. Nearby Cape Meares Lake and Netarts Bay offers some excellent kayaking. Relax on a peaceful afternoon, paddling along.
Or take a plunge into the silent depths: Oceanside is one of the top scuba diving spots on the Coast.
Birdwatching and Photography in Cape Meares
Explore the shore
One cool but lesser-known Oceanside attraction is the monolithic World War II radar station, just east of Radar Road. It was once used to alert the navy of enemy submarines and planes. Drive over and check out a piece of history.
Walk up to Anderson's Viewpoint while you're driving the Three Capes Loop, for a fabulous view. On a clear day, you can see Three Arch Rocks and Cape Kiwanda.
If you're looking for an active day right on the beach, rent Shore Riders bikes and go for a long ride in the sand. Or, check out our primer on rockhounding and go searching for agates; Oceanside is known for being a treasure trove of these colorful rocks. Whether you've been rockhounding for a while or you're just getting started, the Tillamook Coast will give you some beautiful pieces for your collection.
And if you're on the Oregon Coast over the holidays, come to the Oceanside beach on New Year's Day for a "cool" party. The Tillamook YMCA hosts an annual Polar Plunge every January 1! Folks come from all over to grit their teeth and test their grit by taking a dip in the frigid Pacific each winter. Even if you don't want to jump in, it's a fun community event with a bonfire and hot cocoa—a great way to kick off the new year.