Tillamook Coast Life Blog
Fall in love with electric bikes on the Tillamook Coast
Huston Beene and his family didn't just want any form of transportation; they wanted something that would be helpful in case of a natural disaster.
When Huston Beene and his family settled in Tillamook, they began researching alternative forms of transportation that could go off-road in case of a tsunami or severe flooding.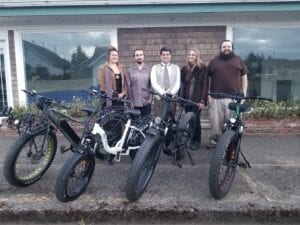 "My wife (Roseana) said, 'I want to be able to get out of here and get up to higher ground,'" Huston said. "We started looking at motorcycles and bicycles. We fell in the love with electric bikes. I started speaking with people about how to design electric bikes because there wasn't one that could have all my gear on it: my go-bag and emergency bag."
This spurred Huston to design his own and very first Hunter/Preper bike.
"It can have 450 pounds on it. It even has a gun rack on it," Huston said. "That was our first bike."
With the inspiration to create electric bikes, Huston's son, Huston Jr. suggested that the family also start repairing bicycles out of the shop in the back of their house.
"We were rescuing people off of Neah-Kah-Nie Mountain: people coming down had brakes that needed to be fixed. We had so much businesses that we had to open our shop."
This past August, the Beene family opened a storefront in Tillamook and named the business: Boss Power Bikes.
Inside the store, shoppers can find custom-made electric bikes, biking gear, and even a skateboard or two.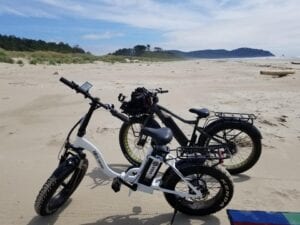 "After the COVID-19 outbreak, the CDC said get out and ride bicycles because it's healthy and you can social distance. So, the bicycles flew off the shelves and we knew that was our time to shine," Huston said.
Boss Power Bikes custom electric bicycles are all made from aircraft aluminum and range in price from $1,999-$2,199.
"They're sturdy and lightweight," Huston said. "We were trying to keep it affordable, but not junky cheap."
As the shop looks to the future, they hope to introduce locals and visitors to electric bikes by offering tours.
"The community has really accepted us. They're so glad we're here," Huston said.
Visit Boss Power Bikes at  1601 2nd St., Tillamook. Open Sunday-Friday, 11 am – 6 pm. Closed Saturday. Or visit them online.