Tillamook Coast Life Blog
Fresh Fish, Flowers and Food at Farmer Creek Garden Stand
Round a corner on Highway 101 between Beaver and Cloverdale on the Tillamook Coast, and you'll see thousands of springtime daffodils blooming at Farmer Creek Garden.
Stop in at the roadside farm stand and you'll discover what the locals have known for several years— Waylon and Sandra Porter offer the best of the Oregon Coast's bounty in one stop.
Where else can you get fresh-caught fish, eggs from free range hens, garden produce, homemade pies, soups, bread and cut flowers too? Every week offers up different fresh goods.
 Sandra's roots run deep.  Her grandparents planted the thousands of daffodil bulbs more than 20 years ago. Sandra grew up working on her parents' dairy farm, and waitressing and cooking in local family-owned restaurants. Along the way she learned to make soups and breads from scratch.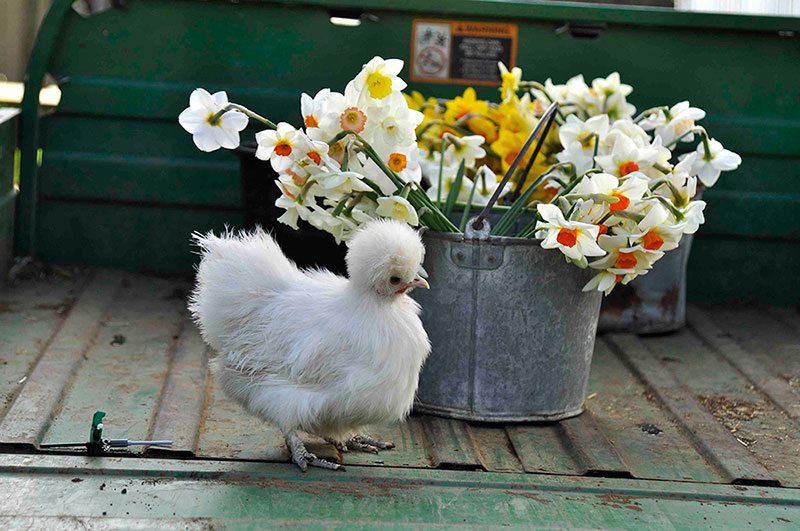 From restaurants to farm to table
She ran her own restaurant for several years before blending her farming and restaurant passions at Farmer Creek Garden.
 Now from her home-certified kitchen Sandra mixes the flavors from the garden into savory soups. "I use what we grow here," she says, of her Cabbage Patch Stew, Carrot Ginger, and Roasted Tomato soups.
Summertime she churns out pies and pastries for the Neskowin Farmers Market and sells wintertime soups and breads too.
Waylon owns a dory boat, fishing from Pacific City for salmon, Ling Cod, Rock Fish and Albacore tuna. Farm stand customers can often find fresh fish in the stand cooler, as well as at the Farmers Market.
Waylon has a standing rule that his fresh fish will be sold within three days of ocean harvest, "So you know it's fresh," he says. In the off seasons, Waylon sells frozen or canned fish brought in from his boat earlier in the year.
Every visit to the Farmer Creek Garden stand is different because, "Whatever happens seasonally is what we're selling," says Sandra.
A guest book invites visitors to log their adventures, and the couple's son, Zachary, often greets patrons holding one of his pet chickens. He sells the eggs from his hens too.
For locals, the Porters offer a weekly produce basket during the summer, consisting of vegetables, baked goods, fish, eggs and cut flowers. At this time, there is a waiting list for this service. However, this year, they are considering offering an additional fish-only weekly pickup.
Farmer Creek Gardens is located at 27850 Hwy 101 South between Beaver and Hebo. The stand is open every day, and is cash-only. Find them on Facebook at Farmer Creek Garden or call (503) 801-2430.