Tillamook Coast Life Blog
Heritage Quilt Trail Meets Geocaching Treasure Hunt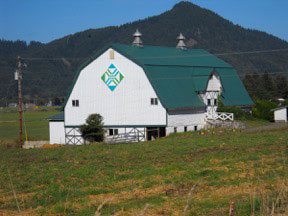 If you've spent any time on the Tillamook Coast, you've seen them—giant, colorful, wooden quilt blocks adorning barns, businesses and boat launches. But what you might have missed are the prizes hidden near these wooden squares! Through the fun of geocaching, the quilt blocks have become beacons for treasure-hunters on the Oregon Coast.
While the quilt/geocache partnership is relatively new, each attraction on its own is pretty well-established: the Tillamook County Quilt Trail (TCQT) was founded in 2009, and geocaching (the game of high-tech treasure hunting) began in 2000.
Visitors can take self-guided walking or driving tours of the vibrant blocks using free quilt trail maps available in many locations. And geocaching is the newest and most unique way to explore! Here's how.
Use your mobile phone to lead the journey
All you need for this environmentally and family friendly activity is a GPS—or phone with a GPS app—and a geocache account, which supplies coordinates and clues to the caches associated with the trail.
Once you register your (free!) account, you can visit the official geocaching website to get more information. The basics: you'll use your phone to choose the cache (aka container with treasure) you want to find and navigate yourself there via GPS. Once you get to the geocache, you'll have to find its hiding place—often the most fun part. Sign the logbook to leave your mark and record your victory, then return the geocache to its spot.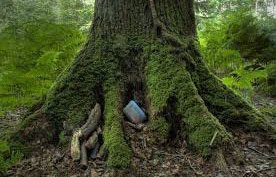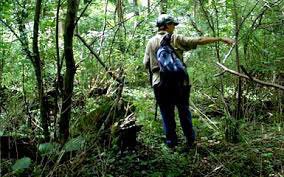 Cache out!
While it's hard to say exactly what you'll find in a cache, you can preview the size of a given cache before you set your sights on it. Bigger cache sizes (small, regular or large) are likely to include trade items. Very small caches (the micro or nano sizes) can't hold much beyond a log-sheet or logbook.
Part of the fun of geocaching is that you never know what the treasure will be! On the Trail, you might score a quilt pin to wear as a trophy for your efforts. If there is a trade item inside your cache, the rules of the game allow you to take it, as long as you leave something else in its place. It's recommended you put your prize in a ziploc bag to protect it from the elements—and don't leave anything perishable, dangerous or inappropriate (people of all ages participate in geocaching). But beyond these common-sense considerations, you are free to use your imagination and leave something interesting and fun for the next person to discover!
The "surprise" element makes geocaching a great activity to do with kids; if they can get excited about the treasure, they might engage with the navigation aspect of the game and learn something about maps and nature in the process.
As of 2017, the county boasts 104 hand-painted quilt blocks, and there are 32 caches associated with the TCQT. So, you have plenty of options as you set out for adventure.
You choose the level of difficulty and the kind of terrain you'll want to traverse. From backroads to beautiful views, each cache uses the quilt blocks as clues to find the high-tech treasure.
With the quilt blocks leading the way, get out of your car, put on your boots and start geocaching.  The best part is, as you journey by farms, forests and coastlines, you'll be getting to know the real Tillamook Coast.
This post was originally published in June, 2016 and updated in May, 2018.