Tillamook Coast Life Blog
Big Wave Café surges into locally-sourced, sustainable scene
By Brian Cameron
Sitting atop the small coastal community of Manzanita, resides a restaurant dishing up locally-sourced Tillamook Coast cuisine: Big Wave Café.
"Our philosophy here is to keep as much money within the surrounding community as possible," said Big Wave Café owner and head Chef Brian Williams. "Everything we make here is not made in advance, we use fresh ingredients and make our dishes directly to order."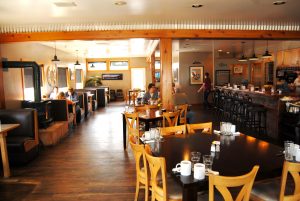 The Big Wave Café has been around for a while, situated right along US Highway 101 at the end of Manzanita's main tourist drag on Laneda Avenue.
Within the last few years on the Tillamook Coast, there has been a drive to connect area farmers to food service. Locally sourced vegetables and fruits, artisan cheese and dairy products, sustainable meats, and more recently the addition of sustainable commercial fishing practices have put the Tillamook Coast on the foodie map.
The Big Wave Café is tapping into this concept to provide their customers with some of the freshest ingredients around.
"We've got an entire list of partners who help us accomplish our sourced ingredients," said Williams. "We truly try to provide that authentic farm-to-dock-to-table experience."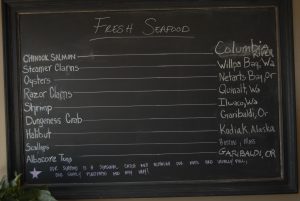 Featuring an impressive list or partnering farms, fisheries and producers the Big Wave Café includes cooks with products from: Bennet Family Farms' milk, Jacobsen Salts, Nehalem Valley Meats, Garibaldi Cannery, The Community Supported Fishery, Tillamook Creamery, Gambee Farms, Netarts Bay Oysters, and The Blue Heron French Cheese Company.
This isn't Williams' first foray into the culinary world. Before the Big Wave Café became a family run business of Williams's, he first attended the Cordon Bleu Culinary Institute in Chicago which is where he truly developed his love for food preparation.
After the mutual decision to move to Oregon with his family, they packed up their lives in Chicago and moved to Manzanita along the Tillamook Coast to set up shop and become a part of the local culinary scene.
"The experience here in Manzanita has been amazing and we continue to see growth as we move forward," Williams said. "We're lucky to be here."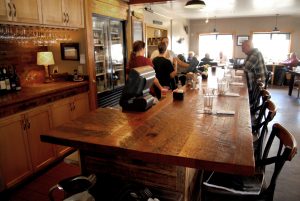 In addition to being a cornerstone of local restaurants in the North Tillamook Coast area, Williams said one of their primary goals is to give a percentage of what they bring in back into the community of Manzanita.
According to Williams, they routinely donate back to organizations like the Pine Grove Community Center, the Rinehart Clinic, North County Food Bank, Brickyard Farms and the Community Supported Fishery in Garibaldi.
The Big Wave Café has also recently made news in becoming an official partner with the Monterrey Bay Aquarium's Seafood Watch Program.
Williams operates the restaurant with his son Sam as the General Manager, wife Carol as the Pastry Chef and he himself is Head Chef.
Located at 822 Laneda Avenue in Manzanita; open 8 a.m. to 9 p.m. seven days a week.