Tillamook Coast Life Blog
Biking the Single-Track Mountain Trails of the Tillamook Coast
Depending on who you talk to, finding quality single-track mountain bike trails in northwest Oregon can be trying. There are some justifiably renowned trails elsewhere in the state, but very little in our corner seems to garner much recognition. Sure, places like Sandy Ridge and Post Canyon get their due, but it's not a long list after that.  And while local single-track seekers continue to flock to Central Oregon, the Tillamook Forest quietly remains home to some solid, yet somewhat overlooked options.
Wilson River Trail
The Wilson River Trail isn't exactly flying under the radar. The popular hiking trail that extends some 20 plus miles through the coast range between Tillamook and Portland is a Tillamook Forest favorite….among hikers. It is, however, a multi-use trail that is also open to bikes. The trail has five different trailheads, giving access to four distinct sections that range from gently rolling forest rides to thigh-burning ascents and nail-biting exposure.
Having been designed for hiking, the riding on the Wilson River Trail isn't very technical, but there are some quality flow spots and areas for speed if you want it. Newish- to intermediate-level bikers might want to consider riding east to west and starting with a pair of less intimidating sections – Elk Creek to Kings Mountain or Jones Creek to Footbridge. While the Kings Mountain to Jones Creek and Footbridge to Keenig Creek segments offer steep climbing and hazardous drop-offs for the more advanced.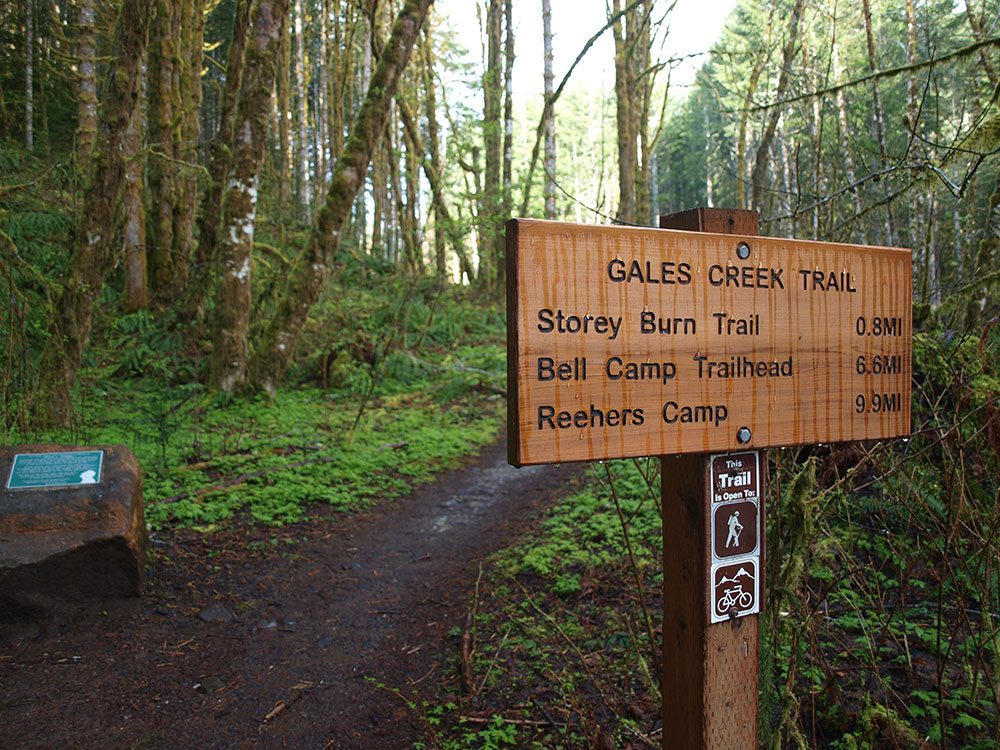 Gales Creek, Storey Burn and more trailheads
A little further east along Highway 6 lies a hotbed for mountain bike enthusiasts. Along the summit area of the pass, the Highway is flanked by popular mountain biking trailheads – Gales Creek, Storey Burn, Browns Camp, and Reehers Camp, to name a few. This area is home to countless loop options as the entire trail network is interconnected, including a mountain bike only run, the Sickter Lars Trail. Taking off from the Storey Burn Trailhead, Sickter Lars is a nearly two-mile long loop with a tight, technical descent that is best suited for advanced riders. And those are just a few of the highlights. The forest is home to countless miles of mountain bike-friendly trails. For more information about mountain biking as well as all other recreational pursuits in the area, visit Tillamookforestcenter.org, or better yet, visit the center in person.
More bike trails to come
And even more trails are under construction. Taking off from the Reehers Camp Trailhead, a re-routing of the Step Creek Trail is nearing completion and expected to officially open this summer. The 3.5-mile loop is geared towards beginning and intermediate riders, and is the handy work of a slew of volunteers. From May through October, the Oregon Department of Forestry hosts Tillamook State Forest Trail Work Parties. The volunteer parties alternate between cleanup, maintenance, and new trail construction. For more details about Tillamook Forest Trail Work Parties, contact Roger Warren at Roger.Warren@oregon.gov.
The Tillamook Forest is known for its outdoor recreational opportunities. And if it isn't already, should be a destination of choice for mountain bikers of all levels