Tillamook Coast Life Blog
Chef profile: Jake Burden of Offshore Grill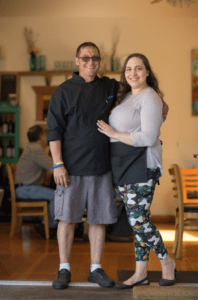 While on vacation in Rockaway Beach, bring the family on down to town to enjoy the exquisite delectables that the Offshore Grill and Coffee House has to offer.
The location has a dual personality as a coffee shop and restaurant.
A few years back, Chef Jake Burden's family had hit a period of dramatic events. When the previous owners of the Offshore Grill came to them and offered their location, Jake took it as a sign.
 "It was a sign that was offered to us," Burden said. "It all clicked, it all seemed to just fit. The timing worked so well for us in where we were with everything. Michelle and I found ourselves literally being offered the dream we'd always talked about doing: opening our own restaurant."
The Offshore offers some of the finest ingredients including fresh produce from Brickyard Farms, grass fed meats from Nehalem River Ranch, and the freshest seafood around from Garibaldi's Community Supported Fishery.
"It's truly our passion," Jake said.
 Offshore Grill and Coffee House is located at 154 Laneda Ave Manzanita, OR 97130