Tillamook Coast Life Blog
Five Tillamook Coast Museums for the Curious
Beyond the tasty cheeses, ocean-scented breezes and stately evergreens, I discovered a quintet of other treasures in Tillamook County. They all focus on collections and history. Although not all of these visual delights have museum in their formal name, they all allowed me to learn about and gain access to the past through the objects on display. From north to south, all these attractions make noteworthy stops.
Garibaldi Museum
112 Garibaldi Ave.
Garibaldi, OR
503.322.8411
Adult admission:  $4
garibaldimuseum.org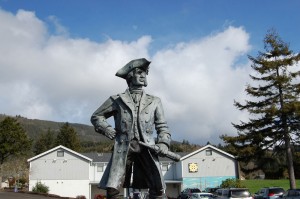 Located on Tillamook Bay in the fishing village of Garibaldi, this museum has told the story of local maritime history through the adventures of Captain Robert Gray since its inception in 1986. Besides reading about Gray's discovery of the Columbia River, I lingered at the half model of the Columbia Rediviva, the ship he manned on that journey. You can see the inside of the vessel, from the men's quarters to the food, ropes, barrels, firewood and pots on the deck where they cooked in case of fire – all in miniature, of course. Another exhibit, although a bit barbaric, showcases medical supplies like a tooth key, retractor and cupping glasses. If you bring children along, try to go on a day when a scavenger hunt is planned. They'll have a blast searching for answers to the hunt questions within the various displays and then choosing a prize when they're done.
Latimer Quilt & Textile Center
2105 Wilson River Loop Rd.
Tillamook, OR
503.842.8622
Adult admission:  $4
Latimerquiltandtextile.com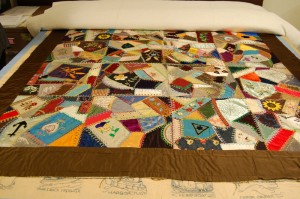 Call ahead to schedule a bed turning, if you can. You'll be treated to a short history of each of 10 to 12 quilts and discover how long it took the creator to craft all the intricate stitches. A few days later you may not recall all the details, but you'll be talking to your friends about this experience for a long time. Latimer is a working museum, on the outskirts of Tillamook, where friends come to progress on their latest handcrafted project, teach others and love to answer visitor's questions. Scheduling a tour (different than a bed turning) lets you watch weaving, spinning and quilting demonstrations and allows you access to the climate-controlled repository. Quilts there are stored in acid-free boxes, wrapped with acid-free tissue and every component from the lighting to the temperature to the storage system keeps the textiles from deteriorating.
Tillamook County Pioneer Museum
2106 Second St.
Tillamook, OR
503.842.4553
Adult admission:  $4
tcpm.org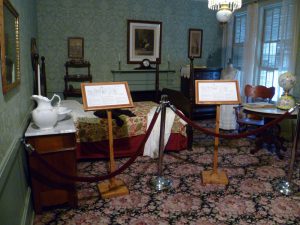 In the heart of downtown Tillamook, three floors showcase Native American artifacts, a 1911 stage coach, the natural history of local animals and birds, logging displays and much more. Where else could you find a large collection of barbed wire, a rebuilt fire look-out, sheriff's badges and much of former Oregon Senator Mark Hatfield's Lincoln memorabilia? Although the 35,000 plus objects on display may seem like a hodge podge of items, they all point to the rich cultural history of Tillamook County. Enhance your visit by taking an audio tour, available in both English and Spanish. My personal favorite display portrays a Victorian bedroom with a low rocking chair, a Victorian-era bed, appropriate clothing and high-top boots. Those interested in researching their family trees have abundant resources at their fingertips here and can do so by appointment.
Tillamook Forest Center
45500 Wilson River Hwy.
Tillamook, OR
503.815.6800 or 866.930.4646
Free admission, donations welcome
tillamookforestcenter.org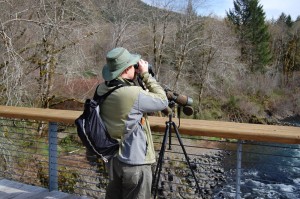 Drive 22 miles east of Tillamook to get a close-up view of some miracles of nature and hard work by devoted people at the Forest Center. Located in the Tillamook State Forest, this interpretive and educational space tells the story of the historic Tillamook Burn and subsequent reforestation. Don't miss the powerful film, "Legacy of Fire," which surprises viewers with a variety of multisensory experiences. Pull drawers and doors out of trees for an interactive glance at forest facts. Kids like trying on firefighter gear and playing with the fire hose. A glass wall, almost the width of the room, displays products made from trees – books, cups, jelly, pies, violins and more – emphasizing how much we need the forest to thrive. I found peace outside the building on a suspension bridge and during a wildflower walk. You can tackle 70 miles of hiking trails and a lookout tower made for climbing.
Tillamook Air Museum
6030 Hangar Rd.
Tillamook, OR
503.842.1130
Adult admission:  $9
tillamookair.com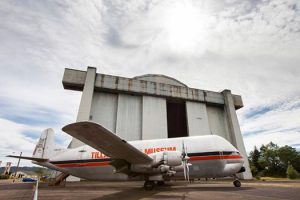 Some speculate wood from the Tillamook Burn can be found in this gigantic blimp hangar, which measures 1,072-feet long, 296-feet wide and 192-feet tall at its crown. Although several of these structures were built during WWII, the others don't allow visitors. I marveled at the incredible story of how quickly this one went up under the worst of weather conditions. The 1940's music playing in the background, a slight musty smell in the air and black-and-white photos on the wall all prepare you for a trip back in time to view the historical aircraft on display. An A-7 Corsair II that flew 39 missions in the Gulf War, a Cessna 180F Skywagon that was outfitted with an arctic research laboratory inside and landed at the North Pole and a rabbit-fur-lined winter flight suit from Imperial Japan all caught my eye.
There are, of course, many more cultural experiences available to visitors on the Tillamook Coast. A good place to start is the Tillamook Coast History Alliance. It brings history, events and things to do under one website. Check it out at www.tchistoryalliance.org