Tillamook Coast Life Blog
Food & Drink on the Tillamook Coast
Farmers Markets
You know what the best souvenirs from the Tillamook Coast are? Fresh flowers, produce, and locally-made products; it doesn't get much better than that! With four different summer locations, there's a Farmers Market close to wherever your adventures take you.
Not just known for dairy
The Tillamook Coast is known for its meat, so why not take your taste buds on an adventure tour? Places like Debbie D's Jerky & Sausage, Tillamook Meats, The Tillamook Country Smoker Outlet, and Werner Gourmet Meats offer some of the boldest flavors and freshest sausage around.
Tillamook Creamery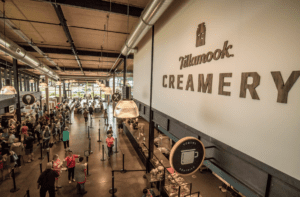 There's just one spot along the Tillamook Coast where you can indulge in an ice cream cone, taste an award-winning grilled cheese sandwich and bring home a bag of "squeaky cheese," all while learning what goes into making world-famous Tillamook cheese. We'll meet you there.
Wine Tasting
Step back Napa Valley, the Tillamook Coast is getting winey. Inside a former Jersey farm barn, you'll find the now-famous Blue Heron French Cheese Company where they offer daily wine and cheese tastings. The Winery at Manzanita is dog and people-friendly. Pick your favorite wine and order a picnic lunch to go for you and Fido. Or visit Nehalem Bay Winery, the Coast's original winery. Twist Wine in Pacific City offers the owners' own vineyard wine.
Breweries & Bars
Learn to drink whiskey from an expert, sample wild fermentation beer, visit the home of the Kiwanda Cream ale: all at the Tillamook Coast. Seriously.
Chip at MacGregor's Whiskey Bar will tell you whiskey served neat or on the rocks is a personal preference. de Garde will take you to the wild side with their ales.  Werner's Beef and Brew is another local favorite, with local brews and great sandwiches.
Picnics To Go
Pick up some locally made goods, pack a picnic, and pick your favorite spot on the coast to sit down and enjoy life. Find locally-made products at Manzanita Fresh Foods, Little Apple Market, Blue Heron French Cheese Company, or Neskowin Trading Company.
Shop at the Docks
Commercial fishing is a heritage industry that continues to play an active and vital role in the identity and local economy of the Tillamook Coast. The Explore Nature Series, in partnership with the Oregon State University Sea Grant program, provides Shop at the Dock tours each summer and fall in Garibaldi. Both an opportunity to share about Oregon's sustainable fisheries and help people feel comfortable visiting the historic working waterfront.
Get a behind-the-scenes tour of the commercial docks and where to buy seafood directly – be it "off the boat" or at one of the independent local seafood markets. You'll gain a better understanding about why purchasing locally-caught seafood is an important step in supporting the local economy and learn best buying tips: what to look for and what questions to ask, thus ensuring that a trip to the Port of Garibaldi for seafood is worth the effort – no matter what time of year.
Crave the Coast
Join us for Crave the Coast food festival,  celebrating the bounty of the North Oregon Coast under the event tent in Garibaldi each year on the last Saturday in September. Canceled for the 2020 season.