Tillamook Coast Life Blog
Foraging Wild Greens from the Forest and Sea
One of the North Coast's finest pleasures for a forager is being able to pick a salad for lunch in either the forest or on the intertidal rocks of the Pacific Ocean.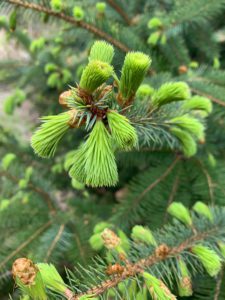 Wild greens are a delicious spring treat and grow everywhere in the North Coast forests. In early spring, foragers pick nutrient-dense emerging growth (always being careful to only pick a few leaves off each plant and only a small part of each patch). Species to explore include stinging nettles, whose sting can be tamed by blanching; the vitamin C powerhouse called miner's lettuce; wood sorrel; fiddleheads, and more. Tender shoots of salmonberry and blackberry are traditional trail snacks for those in the know, as well. You never need more than a small handful of these, or of the bright green tips of newly budded Sitka spruce, which can be used to flavor syrups or vinegar for salads.
In Oregon, non-commercial harvest of live, wild seaweed is legal at the beginning of its growth period from March 1st through June 15th each year unless a particular area is protected and prohibits it. In practice, this period is even more limited, as seaweed flourishes and becomes fully mature only in the summer months. Seaweed that's washed up on the beach at any time of the year can be consumed if it's fresh, but this method is likely better after a winter storm than after days of summer sun. Great species to try include bull kelp — which has both edible fronds at the top of the bulb and a stalk that can be sliced into rings and pickled — the giant, ribbon-like strands of alaria (sometimes known as wakame), bumpy bladderwrack, porphyra (sometimes known as nori or laver), and bright green sea lettuce. 
Be sure that you are gathering seaweed from a water source that isn't polluted by agricultural or urban run-off. This guide and video can help get you started on species and methods. Or take the easy route and sign up for a workshop on gathering wild greens or sea vegetables on the North Coast from an expert.