Tillamook Coast Life Blog
How to spot rocks when rockhounding
Rockhounding is the activity of hunting for minerals, rocks, crystals and gemstones. Along Oregon's Tillamook Coast, you can find rocks ranging from agates and jasper to fossils. The rockhounding pastime is a fantastic hobby for kids and adults alike.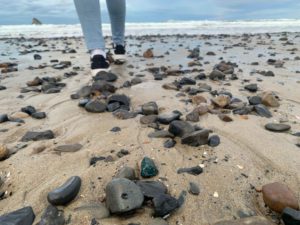 You'll want to do your research to get started.
What are the best rockhounding areas in your region?
What rocks are available in the area?
How do you get there?
Along the Tillamook Coast, people are generally looking for rocks they can polish in a rock tumbler, such as agates and jasper. Others look for igneous (volcanic rock) with gas bubbles in it where minerals have crept in there and crystallized. Still others are in search of fossils. I love to tumble my rocks to a sparkling finish, so I primarily look for agates and jasper.
How to spot rocks
In our family, everyone hunts for rocks using a different method. I liken it to coloring in a coloring book: Some of us outline first, then color in; others color every which way or "scribble;" still others fill in color with deliberate, straight, parallel lines so as not to miss anything.
My husband likes the scribble method. He says the lines are just there as a "suggestion." I like to both color and look for rocks in straight, parallel lines, walking from the uppermost line of the rock bed to the low tide line, then back.
How about a sectional approach? Imagine the rockbed as a grid. Maybe there are six sections and you go over each section thoroughly.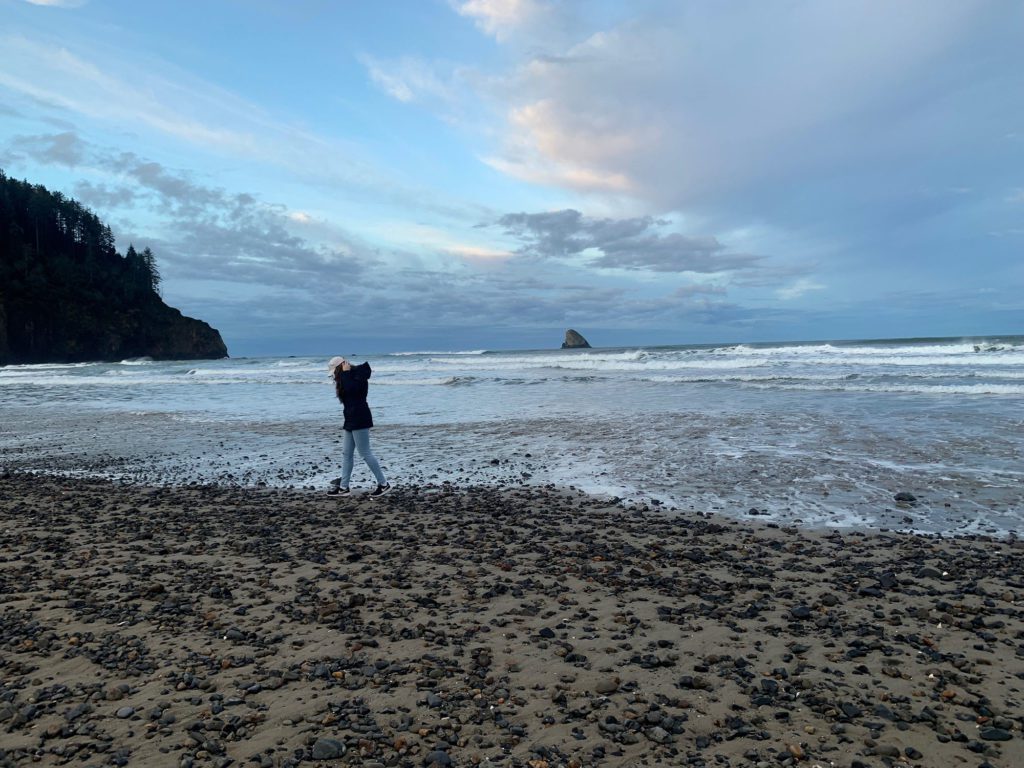 Some concentrate their search at the surf line, where it is wet and the rocks glisten with water droplets, making them easier to spot.
Take the time to be inquisitive. Think of what might be hidden or what's just below the surface. You just might dig up a treasure!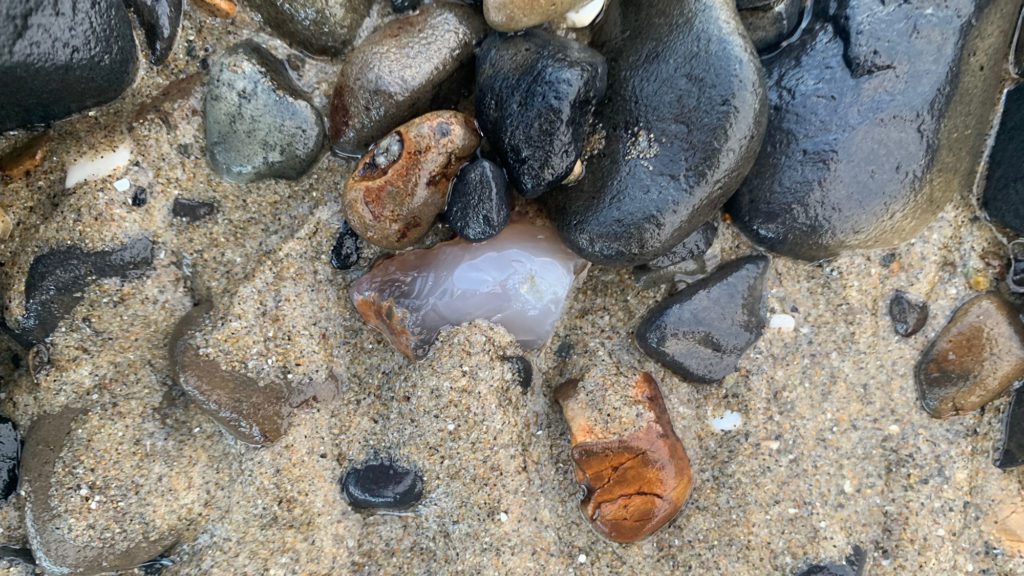 When to spot rocks
Primary agate hunting season in Oregon is generally between October and April, when big storms erode embankments and scour away sand, uncovering rocks.
You'll want to plan to visit the beach on an outgoing tide. As M.J. Grover notes in his book Agate Hunting on the Oregon Coast, "Outgoing tides agitate the rock beds, pulling sand out to sea and exposing the rock beds underneath."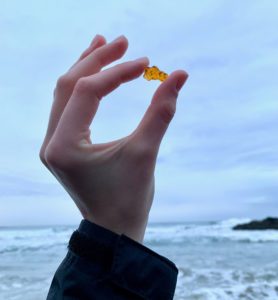 How to recognize rocks
There are a variety of agates on the Oregon Coast, including carnelian agates, milk agates (a.k.a. white or moonstone agates), banded agates, fortification agates, cloud agates and moss agates.
What they all have in common is that agates are translucent; that means, you can see light pass through them when you hold them up.
To me, a beautiful jasper is as big a treasure as an agate! Jasper is an opaque stone with bold coloration and impurities that give the stones brilliant shades of red, green, yellow and brown. You can recognize jasper by its smooth texture and bright colors.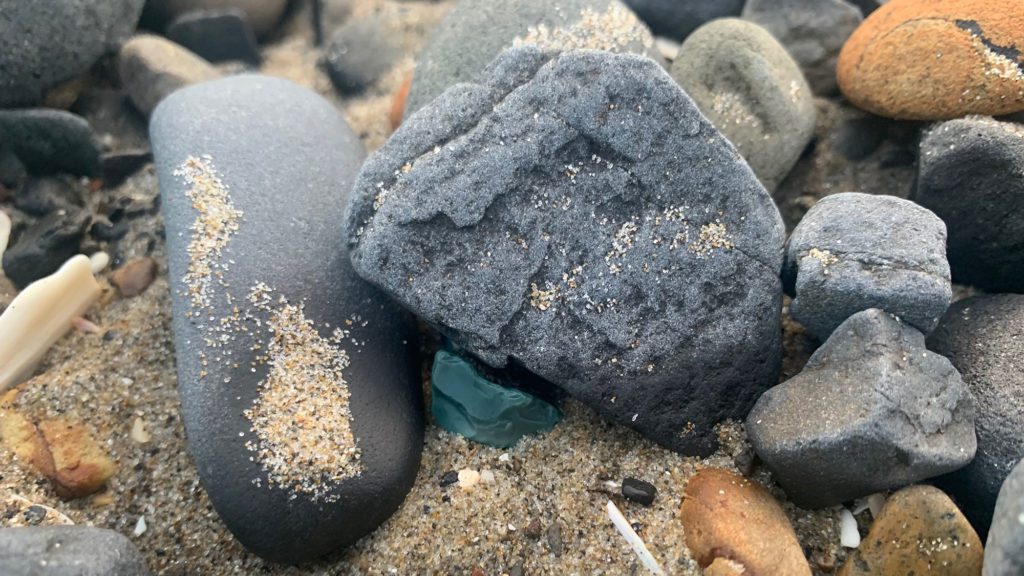 Which beaches on the Tillamook Coast have the best rock beds
Rockhounding author Grover notes, "Productive beaches will have exposed gravel beds, or at least a nice assortment of rocks scattered about. This is where you will find agates and jasper. If the beach you are visiting is solid sand and completely devoid of gravel, your odds of success will be low."
Several beaches along the Tillamook Coast are known for their rock beds, particularly in the winter months. Short Sand Beach (Oswald West), Rockaway Beach, Oceanside, Tierra Del Mar, Pacific City, Cape Meares, and Netarts Spit are good bets.
One notable agate-hunting beach is Short Beach, north of Oceanside and sometimes difficult to access if nearby roads are closed. There is a difficult, rapid creek to pass to get to a good portion of the beach, so make sure to survey for safety first, and bring a pair of rubber boots should you deem it safe to cross. Rewarding rock beds are on both sides of the creek.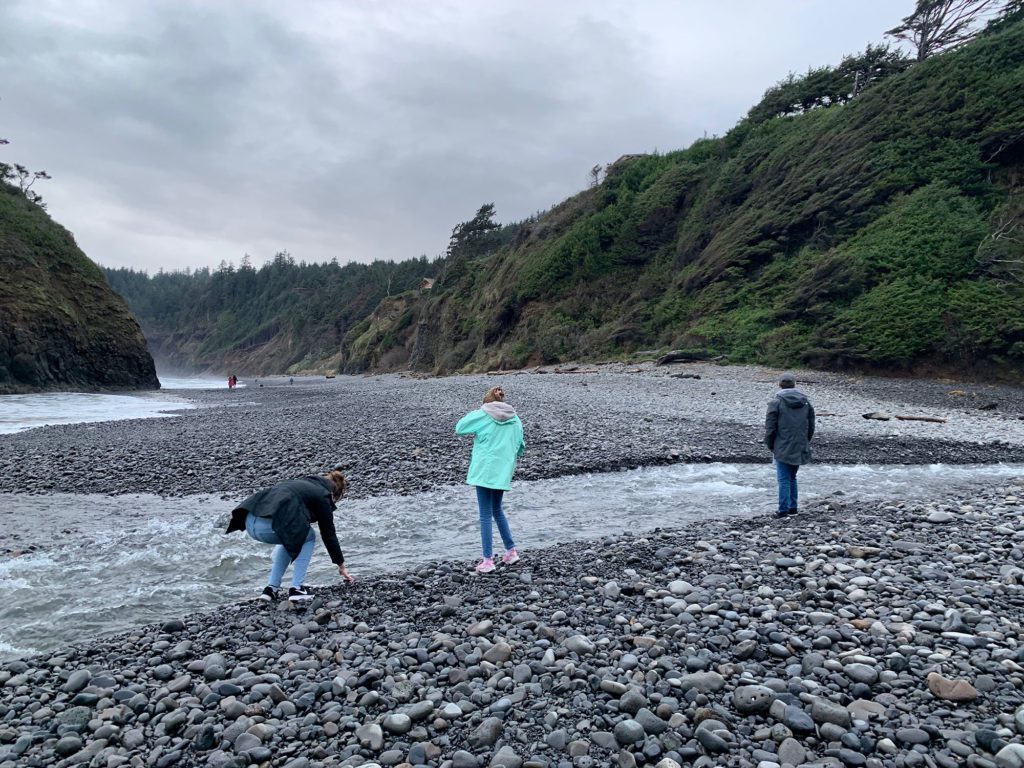 Take action
Rockhounding is a treasure hunt. To learn more, read our post on 5 Tips for Rockhounding the Tillamook Coast. Then, choose a beach and head out, on your own or with a friend or family member. It's good exercise and great fun. Just another way to enjoy Oregon's beautiful Tillamook Coast!