Tillamook Coast Life Blog
Looking Back: The Manzanita Tornado
Words like 'quaint' and 'charming' are often the first that come to mind when you hear Manzanita. It's a little coastal gem with inviting shops, restaurants and lodging.
After the morning of October 14, 2016, another word has moved to the top of the list: 'resilient.'
A little after 8 a.m. that Friday morning, a tornado blew in off the ocean and made a quick, powerful run through downtown Manzanita.
After the initial shock wore off and the dust settled, residents got a look at what was left behind.
It looked bad. Trees and power lines were down and debris was everywhere. Several storefronts in the heart of Laneda Avenue were badly damaged.
Soon, the sound of chainsaws working to remove downed trees and trucks hauling away debris became a familiar, constant background noise.
Thanks to a quick response by Emergency Volunteer Corps of Nehalem Bay and city officials, information was easily disseminated and clean-up crews got to where they needed to be.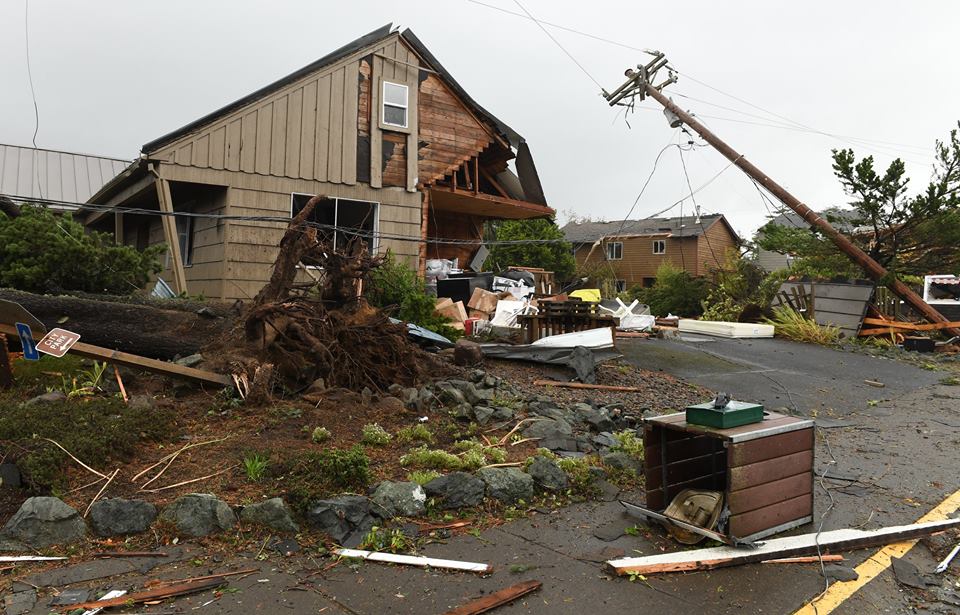 Amazingly, the majority of Manzanita's shops, restaurants and lodgings were open for business within 24 hours.
Some Manzanita shopping staples – Salt & Paper, Toylandia, Manzanita Sweets, Cones & Coffee, Wisteria Chic, Vino Manzanita and Moxie Fair Trade – were hit the hardest and faced uncertainty about when they might be able to reopen. Owners began working in earnest to repair the damage or temporarily relocate.
One year later, little of the damage is visible. All of the shops have been repaired and are now reopen, some within a few days of the tornado (MacGregor's Whiskey Bar opened in the space previously occupied by Vino Manzanita).
Citizens are aware that it could have been much worse: no major injuries were incurred.
If nothing else, the tornado was a reminder of the need for disaster preparation.
The quickest path to recovery in Manzanita was having folks dining at their favorite restaurants or shopping at their favorite stores again.