Tillamook Coast Life Blog
New and wonderful reasons to kick back in Pacific City
Driving north on Highway 101, there comes a moment when I find my gaze pulled westward and there, across the wetlands flush with geese, rises Haystack Rock, the iconic landmark signaling we are almost there.
In the past, I've come to Pacific City to kayak, for Dory Days and the Blessing of the Fleet and for wine tasting. I've walked the beach, watched the horses, the surfers and SUP'ers, and plan for the annual Birding and Blues Festival.
But on this weekend, I—with hubs Chan in tow—have come for the sole pleasure of checking out some of the newest additions to this oceanfront town. It's a list as diverse as it is distinctive: a luxury lodge and spa, a chic airy restaurant dedicated to sustainable fine dining; and an RV park of new and vintage Airstream trailers.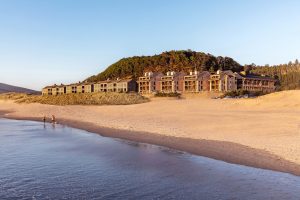 We pull into town on a Saturday and moments later, I get my first look at the Headlands Coastal Lodge and Spa, a blend of wood, glass and stone, with unparalleled views of the Pacific Ocean, Haystack Rock, and the beach for as far as the eye can see.
I arrive just as owners Mary Jones and Jeff Schons are coming through the front doors and am lucky enough to be invited on a personal tour with Lodge manager Jennifer Nelson.
It may seem the public restroom is an odd place to start, but it's a testament to the amazing detail the pair have put into the Lodge, made obvious here by the living wall sculpture captured first in its reflection in the mirror. Crafted by Coyote Gardens of Neskowin, it's also a fine example of the effort made to use local artists throughout the hotel.
In the lobby, we pass the gift shop, and the Meridian restaurant, where wall-to-wall windows are designed to open and fold back on those fine coastal days. Each of the three guest room floors features a space dubbed "The Pantry," the place you'd normally find overpriced vending machines. Here, it's stocked with locally sourced snacks like Tillamook ice cream and Oregon Bark's Tom Bumble Bar. And no need to worry about the correct change, snacks here are on the honor system. In the same vein, you won't find a concierge at Headlands. Rather, those helpful people here are known as Adventure Coaches, at your service to help plan all kinds of outings.
As we walk, passing views of the spa, the future herb garden, and even a "Hideout," soon to be equipped with hammocks, I can't help but notice the prevalent theme of geese. That, as I soon learn from an etching on the wall, is the Headlands' logo, a nod to the Semidi Island Aleutian Cackling Geese whose only wintering spot in the world is Pacific City.
"Each year, the Geese fly south more than 2,000 miles from their small Alaskan nesting Islands to Oregon's North Coast. Every evening during their annual Pacific City stay, they leave the grassy pastures in the Nestucca Valley and soar across a mile of ocean to roost on Haystack Rock—the same towering monolith Headlands guests can see from their rooms and cottages…"
Finished with this tour, Nelson walks me across Cape Kiwanda Drive to check out Hart's Camp, where, "It's always glamping season."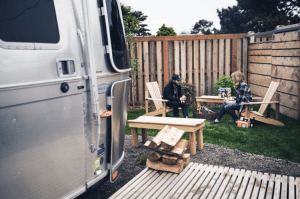 Currently, there are seven Airstreams. Each comes with a private yard and deck, a custom-built bike rack for the complimentary Linus bikes, a BBQ, fire pit, outdoor shower and bundle of wood. Future plans include a total of 30 to 40 Airstreams and cabins, and a recreation center including an indoor pool. I've camped, but never glamped, and this has me thinking it's time to start.
But this time around, I'm ready for a little pampering in my oceanfront room on the second floor of the Headlands Lodge.
I step into a room featuring box seat views of Haystack Rock, a king-sized bed, cast iron soaking tub, fireplace, private deck, and undoubtedly the best vantage point offered by any shower on the Oregon Coast.
With the right supply of rations, it seems to me a soul could check in here and need never go out. Almost. As it happens, an outdoor hot tub awaits and I'm a fool for a hot tub, especially one with an ocean view. On our way there, we pass through the spa where an instructor leads a sole student in yoga, and where the gym is stocked with Pelaton bikes, and his and her locker rooms feature steam rooms.
Later, we dress for dinner and walk to the Meridian, nearly overflowing with the revelers celebrating a birthday party. The manager sees us watching, and slips us around the back of the bar where we have a full view of the kitchen, overseen by Executive Chef John Nelson.
Bartender Brian has just moved from Texas and is already loving the Oregon Coast vibe. When we mention we plan to have breakfast in the morning, he recommends two of his favorite dishes. And, of course, after a soothing slumber to the sound of the surf, we take his advice, ordering the Smoked Salmon Benedict and Headlands Hash. As promised, they do not disappoint.
On our way home, we again pass the wetlands and this time when I see those geese, I am reminded what a singular place this truly is.