Tillamook Coast Life Blog
Riding the Rails on the Oregon Coast Scenic Railroad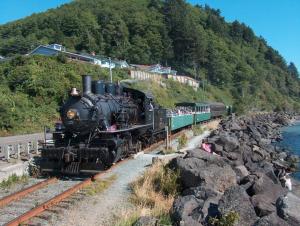 Hissing brakes, grinding metal, and finally the unmistakable signal of a steam engine's whistle cutting through the air. Few sounds can stir the hearts of everyone from seven to seventy like a thundering locomotive rolling down the tracks, but on a recent trip to the Tillamook Coast my family enjoyed the thrill of riding the rails on the Oregon Coast Scenic Railroad (OCSR).
Once a prospering rail line that hauled timber out of the Coastal Range Forest, the OCSR now transports passengers on a variety of trips between the fishing village of Garibaldi and the Salmonberry River. The most popular excursions run between Garibaldi, Rockaway Beach and Wheeler. Thirty-minute stops are scheduled in each village, allowing for plenty of time to get off the train and explore three of the Tillamook Coast's charming villages.
During the trip you'll ride beside peaceful waterways, through the forest, and, of course, along the stunning Pacific Ocean. Passengers can sit in either a restored 1920s coach car or open-air car where they can enjoy fresh sea breezes along the way. Many wildlife native to the Pacific Northwest can be found in the river systems and marshes that empty into the sea, so bring your binoculars along to catch a glimpse of coastal birds and mammals.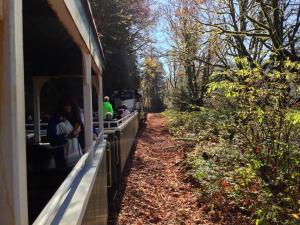 For train enthusiasts, a special seat in the locomotive cab can be reserved next to the engineer so they can catch all the action and learn firsthand the techniques and skills necessary to operate a historic steam locomotive.
Departure days and times vary throughout the year, so check the Oregon Coast Scenic Railroad's website for more information. Be sure to look at their "Special Excursions" for information on their Dinner Trains, Valentine's Day Special, Salmonberry Excursions, the Fourth of July Special, Fall Splendor Runs, and the Candy Cane Express.