Tillamook Coast Life Blog
International Police Museum is an all-ages attraction in Wheeler
This article was originally published in October, 2016 and updated in August, 2021.
From childhood games of cops 'n' robbers to watching "Cops" on television, people are fascinated by police work. But it isn't a game, and it's not like television. On the Oregon Coast, the International Police Museum in Wheeler helps tell the real story.
"Not everything we do is putting people in jail," said Ed Wortman, the former police chief of Rockaway Beach and a museum board member, whose personal collection from his long career in law enforcement makes up the bulk of the exhibits. "The majority of our job is helping people."
The museum at 395 Nehalem Blvd. has a Facebook page showing many of its displays, with historic and modern items from around the world including uniforms, restraints, badges, weapons and other tools. Visitors can try on garb including police hats and bulletproof vests. And Oregon gets a special nod in an exhibit on women in law enforcement. "Penny Harrington was the first female chief of a major metropolitan U.S. city, and that was in Portland," said Wortman.
Visitors can learn about police communications, how fingerprints and other pieces of criminal evidence are collected and see weapons used by policemen and -women throughout history. There are also some great photo ops in the museum, like the life-size display horse (just like the horses used by law enforcement before the advent of cars and sirens) and a mock jail cell with original bars from Oregon's Rocky Butte Jail.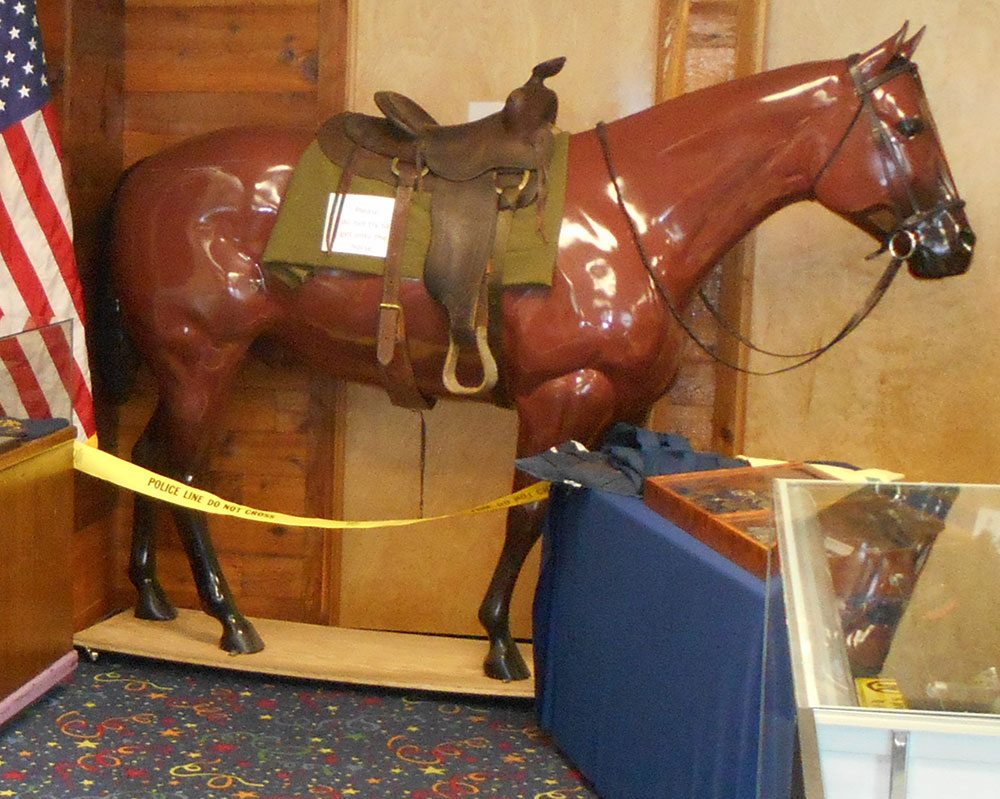 Wortman said kids enjoy "the bear game," with "Sergeant Teddy Bear, Officer Blue Bear, Officer Orlando Bear, Officer Small Bear, Officer Black Bear, Detective Salt Lake Bear and Detective Brown Bear" hiding in the cases and needing children's help to find clues, people or items.
Interested in helping the museum? You can apply online to become a volunteer!
Admission to the museum is free. "We do ask for donations, but we're a free museum," Wortman added. "We're one of the few things you can do in Wheeler that is free, and it is dry in the rain."
Wortman worked in law enforcement for over 40 years, serving as police chief in Rockaway Beach for eight of those years. Over time, he accumulated the collection of memorabilia on display in the museum today. His goal with the museum is to "demystify law enforcement," he has said. The exhibits are designed to educate visitors on the history and importance of law enforcement through the ages.
As an integral part of the community, the Rockaway Beach Police Department contributes to community outreach and engagement, beyond the museum. The force participates annually in the Polar Plunge—a winter swim in the frigid Pacific—to benefit the Special Olympics. They've also hosted workshops for citizens, to create a better and safer community. This summer, the police have been conducting regular pedestrian safety exercises to encourage drivers to be more alert, walkers to exercise caution and everyone to be more aware of the rules of the road.