Tillamook Coast Life Blog
5 tips for capturing the sunset photo of your dreams—even with your phone
This post was originally published in September, 2016 and updated in July, 2018.
She has photographed spectacular sunsets around the world, yet Linda Cook has shot some of her best pictures from Manzanita, where she lives and studies the setting sun every day.
"Sunsets happen very quickly, so to capture that once-in-a-lifetime image, it takes some pre-planning," said Linda. "I carry cameras, lenses and tripods to get the perfect shot, and I've also been known to shoot with my phone."
She shares her top five tips to those willing to put in the time to create a sunset photo sure to earn bragging rights.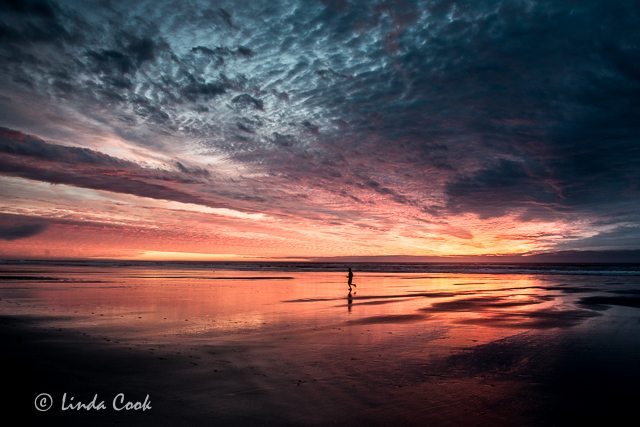 Here's your how-to:
First, arrive at your chosen location well before sunset and plan to stay and shoot for at least 20 minutes after (check weather websites to find out exact sunset time).

Decide where you want to stand, what you want in the foreground and how you'll pull the viewer into the photograph. "You're looking for texture and interest such as people, sun rays, reflections, clouds, and, please, never put your horizon in the middle."

Look for cloud-filled skies. "Broken clouds can make a sunset—they allow the most interesting light," said Linda.

Start shooting when the sun is beginning to set and once the sun has vanished below the horizon continue shooting for 15-20 minutes to capture the afterglow.  "The sunsets we all remember are actually the afterglow—it's where the magic occurs filling the entire sky with color."

Lastly, Linda encourages would-be sunset hunters to experiment, have fun, and watch the sunset with someone you love.

Rendering nature's palette
They're over in just 30 minutes, but sunsets and sunrises are two of the most iconic and stunning natural phenomena. Vibrant colors make for some truly arresting scenes that have long captured artists' imaginations. From colored pencils to water colors to wide lens cameras, every medium (and artist) puts a different spin on the dawn or dusk sky.
One of the most fascinating things about this subject matter? No two sunsets are ever the same. And sometimes the most magic happens when you're least expecting it. "Bad" weather can make for beautiful shots—if you've ever stepped out after a thunderstorm, you've probably seen a golden glow and a spellbinding swirl of pinks and purples across the clouds. Likewise, dust or smoke in the air create a unique effect.
Bear in mind that experimenting is the number one way you'll achieve the kind of photos you want. Try shooting with different lenses, focal lengths and exposure settings and checking out the results. You might be surprised by what works! Most importantly, the pictures offer you valuable feedback as you learn and take better photos.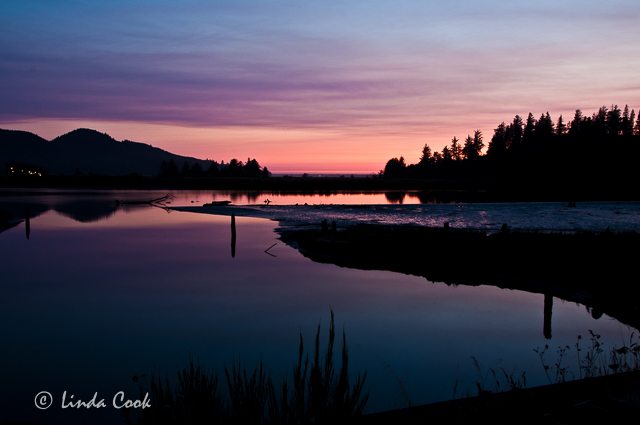 You couldn't choose a more beautiful classroom
In fact, it was the majesty of the Oregon coast that first inspired Linda to get serious about photography. When she moved here, Linda was overwhelmed by the state's beauty. She wanted to share all the wonderful things around her, so she picked up her camera and took a look through a new lens. Today, her photos appear in galleries up and down the coast and beyond. Her work is used in magazines that circulate nationally and beyond the U.S.
Visit Linda's website at www.lindacookphotography.com