Tillamook Coast Life Blog
Teeming with color and whimsy
Open the door to the Latimer Quilt and Textile Center in Tillamook and it's as if you, like Lewis Carroll's famous Alice, have fallen through the looking glass and landed squarely into an alternate world.
The Latimer Center, as locals call it, teems with color and whimsy as both antique and new textiles give visual splendor. The building is a delightful nod to yesteryear. It dares visitors to dally.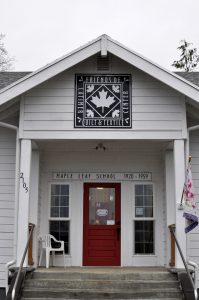 "A lot of people walk through the door and they say it feels so good in here," said Carol Weber president of the center's Board of Directors.
"The center wraps itself around people and holds them close," she explained. "There's a feeling of camaraderie here."
What makes this place special?
First, the center is a museum and is open to the public: anyone can pay the $4 museum admission and see the beautiful rotating textile exhibits. Some of those exhibits are local history pieces while others are on loan from areas near and far.
Kim Schauss, one of the center's two associate managers, said tours buses stop often, along with visitors to the Tillamook Coast. Often, visitors who tour the museum become members. They return time and again.
"We get thank you letters in the mail all the time," she said of people who feel deep attachment to the space.
The center also boasts hands-on classes taught by talented instructors. It's very common for both local and regional museum members to come take a class and end up staying for hours to help with other classes, or to volunteer, Carol said. She continued that the Latimer Center has always been a space where questions are encouraged and skills are taught for the joy of learning.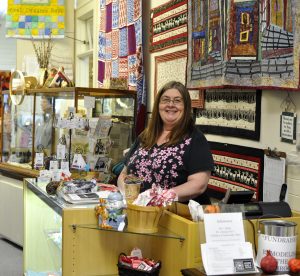 More than a century ago, young scholars gathered in the building to learn sums, writing and history. Then it was called the Maple Leaf School. Today spinners and weavers, tatters and quilters, knitters and all sorts of artisans gather to work and learn. Museum goers are often astounded and delighted to see weavers working on vintage looms.
The Latimer Center is also a store.  On the walls and along the walkways quality quilts and rugs, doilies and dolls, all made by local artists are for sale.
Finally, the Latimer Center is a repository. It is a place that preserves and archives textile artifacts from Tillamook County History. The repository, says, Carol, is an invaluable piece to the center's community importance.
Built in 1995, the repository houses over 400 quilts and 300 textile artifacts. Volunteers work at cataloging the items. A team from the center travels to quilt shows and artisan fairs to showcase the center's artifacts. The oldest piece on display at the center is a hand-sewn quilt dating to 1878.
Donated quilts sometimes get deposited on the center's front doorstep. Other times, they have been mailed from across the country. In some instances, loved ones have carefully delivered family heirlooms and after deciding to donate the piece, have left with tears in their eyes, Carol said.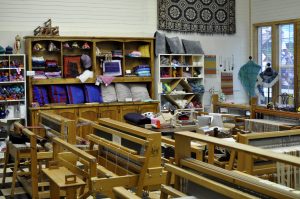 Visitors are welcome to tour the repository, she added, but they need to call and arrange a touring time prior to their trip so that an additional staff member can lead their tour.
Latimer Quilt and Textile Center is located at 2105 Wilson River Loop in Tillamook. The center is open seven days a week, 10 a.m. to 5 p.m.; Sundays, 10 a.m. to 4 p.m.