Tillamook Coast Life Blog
Tillamook Farmers Market
Brilliant red flowers caught my eye as I pulled up to the Tillamook Farmers Market. These bright bouquets were at the Farm Table, a shared booth for small farm business and avid gardeners offering a diversity of products from mushrooms to petit pickling cukes and pretty little sedums planted in cow mugs.
Along the broad market street I found samples that were salty, yummy, sweet, and soothing. At the Jacobsen Salt booth I tasted salt made from seawater in Netarts, and was awed by a close-up view of snowflake pyramids of crystalline sea salt. Next I sipped Tillamook milk at its freshest from Bennett Family Farm. They have portrait photographs of their Red Holstein cows, with their respective cow names, displayed on the side of their van.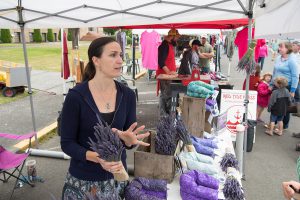 Honey bees were busy in the observation hive at the Honey House Farm booth where they had three different local honeys available for tasting, each a different golden hue. The blackberry honey is delicate and light, whereas their wildflower honey is robust in flavor and a popular choice for those with allergies.
With honey sweetness still on my tongue I came to gaze at the elegant bundles of Oregon Coast Lavender, and breathed deeply the calming aroma. I picked up a hand-sewn lavender eye pillow to take home with me, which I might add, still smells deeply satisfying many weeks later.
The market is open Saturdays from 9am to 2pm at Laurel and 2nd Street in Tillamook, June through September. The market opens each week with the Star Spangled Banner, and hosts weekly musicians, and a booth where local chefs demonstrate seasonal recipes.
* Photos by Trav Williams, Broken Banjo Photography