Tillamook Coast Life Blog
Camp & Glamp on the Tillamook Coast
Camping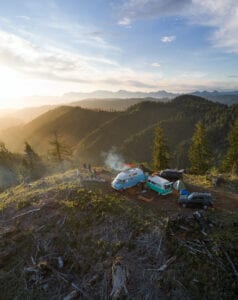 The best part about camping on the Tillamook Coast is the choices. Many yurts, tent campsites, and RV parks have ocean views. You can choose secluded and tranquil, or in the center of the beach bustle.
One of the best-kept camping secrets is Barview Jetty County Campground on the north side of the jetty. This Oregon Coast campground offers plenty of tent sites surrounded by native forest and sand dunes, RV sites, hot showers, and trails through the woods to the beach. Or pitch your tent near one of Tillamook's waterways at Kilchis River County or Trask River County Campgrounds.
Tillamook County Parks Department
From the forest, to the water-side, Tillamook County Parks has it all. The Parks Department offers 11 day use areas, 21 boat launches, and 6 campgrounds for visitors to explore. Take your pick and we'll see you there.
 Barview Jetty County Campground
Located 1.5 miles north of Garibaldi on Hwy 101, this 160-acre campground is located along the beautiful Pacific Ocean beach. The campground offers excellent surf & jetty fishing, scuba diving, surfing, sightseeing, and beachcombing opportunities. Playground, restrooms, showers, six cabins, 73 full hook-up RV sites and 272 tent sites.
Call 503-322-3522 for reservations.
Kilchis River County Campground
There is great river access to launch a drift boat or play in, as well as a playground and open meadow. Located five miles northeast of Tillamook off of Alderbrook Loop Rd. This 110-acre campground is nestled in a beautiful wooded valley along the Kilchis River. Restrooms and showers are available. 63 RV and tent sites.
Call 503-842-6694 for reservations.
Trask River County Campground
Twelve miles east of Tillamook the Trask River County Campground can be found where the South and Main Trask River meet. The campground allows river viewing as well as access for anglers. There is also a play center and open meadow. Restrooms and 112 RV and tent sites.
Call 503-842-4559 for reservations.
Whalen Island County Campground
Surrounded by the Sand Lake Estuary to the south and Clay Meyers State Park to the north. There is great bird watching, clamming, fishing, and hiking opportunities. Located 4.5 miles north of Cape Kiwanda on the Three Capes Scenic Loop in Pacific City.
Call 503-965-6085 for reservations.
Webb County Campground
Located in Pacific City across the road from the beach at Cape Kiwanda Recreation Area. The campground offers easy access to the beach for surf fishing, dory boat launching, surfing, and beachcombing. Restrooms and showers. Eight RV sites and 30 tent sites.
Call 503-965-5001 for reservations.
Woods County Campground
The Woods County Campground offers great bank fishing and river access as well as being five minutes from the beach. Located on the south bank of the Big Nestucca River in Pacific City. Restrooms, five RV sites, and seven tent sites.
Call 503-965-5001 for reservations.
Wagon Camping
Want to try a pioneer-style campout? Twins Ranch Covered Wagon Campground in Tillamook lets you circle the wagons around a big campfire and will feed you a chuckwagon-style breakfast and dinner.
Glamping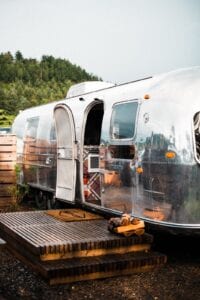 Camp, Glamp or Airstream? Take your pick.
Some campers prefer a sleeping bag with nothing but the ground beneath and the stars above. Others opt for a tent, or the back of a VW van, even a hammock hung between pine trees. But camping doesn't have to be primitive or bare bones. On the Tillamook Coast, camping options range from tent sites to Airstream trailers.
If glamping is more your style, then glamp we have. Hart's Camp in Pacific City makes your Airstream dreams come true. Each one comes with a firepit, bikes and outdoor shower, and best of all, the camp is just steps away from the beach and Pelican Brewery.
Yurts and Cabins
"Rough it" in a yurt at Nehalem Bay State Park, Cape Lookout State Park, Barview Jetty County Campground, or at the private Yurt on the Bay in Bay City. Tillamook Bay RV Park recently added new yurts to their site as well.
The two state parks also have small cabins perched in the trees overlooking the ocean – just bring your bedding.
RV Camping
Looking for a unique place to park your RV? Try Neskowin Creek RV Resort. Set within a forest on a coastline, this campground is unlike any other. Within the enclosed gate you will find tons of fun, including a basketball court, tennis court, heated indoor pool, Jacuzzi, shuffleboard, game room, and a playground for the kids.
In central county, Tillamook Coast RV Park on the Tillamook River has a petting zoo, and Tillamook Bay RV Park near Bay City has all the amenities waiting for you.
Sheltered Nook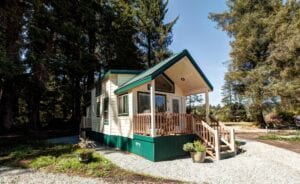 We know you've "pinned" photos of adorable tiny homes.  But, is it really for you?
Before you make the "little" commitment, or if you just want to have the unique experience, rent a tiny cabin at Sheltered Nook.
These Bay City rentals are six fully furnished tiny homes that serve as a peaceful retreat amongst the trees, by the bay. The tagline: "Stopping and smelling the roses isn't a luxury around here, it's a requirement," tells you all you need to know.