Tillamook Coast Life Blog
Get to know Rockaway Beach
Family Adventures
With seven miles of sandy beach, and more than 100 vacation rental houses and 200 hotel rooms to choose from, there is no lack of things to do and places to stay in family friendly Rockaway Beach. The beachfront here is what coastal dreams are made of. Enjoy beachcombing, metal detecting, kite flying (there is an annual kite festival in August), shopping at Warehouse 10, or a peaceful sunset walk. Take a ride on the historic Oregon Coast Scenic Railroad for sights tucked away from the highway.
Culinary Connoisseur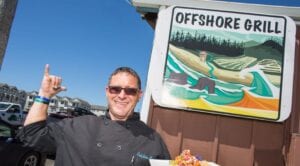 Rockaway Beach is also where the Pronto Pup was born – just look for the giant Pronto Pup for the famous hot dog on a stick. The Offshore Grill features fresh, local fish and produce, and the Sand Dollar Restaurant & Lounge offers oceanfront dining.
Outdoor Explorers
Explore numerous intertidal pools where you may see colored starfish varying from lavender to gold. Nearby, Kelly's Brighton Marina and Jetty Fishery offers crabbing and fishing galore. Or, take a walk through the Old Growth Cedar Trail. Strolling through town is just as fun, with oodles of shops featuring traditional beach fare, ice cream, antiques and prized mementos.