Tillamook Coast Life Blog
Oregon Coast Lavender: From overgrown property to scented crops
Stand still among the lavender, and you'll hear the silvery warbles of songbirds and the gentle hum of honeybees, in the fields at Oregon Coast Lavender. The air itself is gently infused with perfume from 7 different varieties that were carefully selected for their fragrance and successive bloom throughout July and August.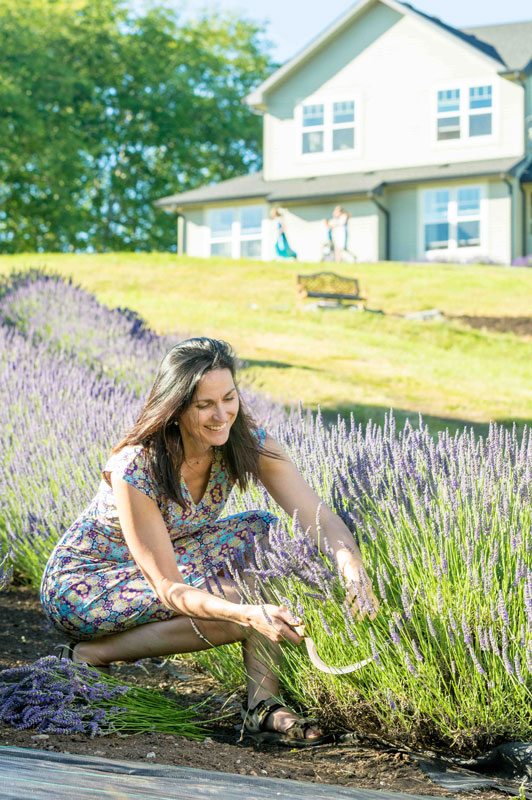 Heidi Luquette fell in love with lavender while visiting Sequim, Washington. She was taken by the picturesque landscape, and inspired by the story how the area became "The Lavender Capital of North America." Like Tillamook, Sequim is a long time dairy community. But the Olympic Peninsula town started losing ground to housing and commercial development in the 1990s. In response, community members banded together to figure out what they could grow or develop as a region that would allow them to maintain their agricultural heritage.
Oregon Coast Lavender started as a property covered in brush so thick that when Heidi and family purchased it they didn't know it had a view of Tillamook Bay. The lavender field was established first, even before there was a house built or a water line dug. To start with, Heidi would regularly drive a 50 gallon drum of water to the field to water the plants in.
You'd be hard pressed to find fresher lavender. Heidi cuts the lavender bundles as evening falls, and early the next morning she gets a cup of coffee and goes to market. Find Oregon Coast Lavender's beautiful fresh cut and dried lavender, handmade eye pillows and neck wraps, and dried lavender sachets at the Tillamook and Manzanita Farmers Markets.
Tillamook Farmers Market is at 2nd and Laurel streets on Saturdays, 9am – 2pm from June through September. Manzanita Farmers Market is held at 5th and Laneda on Fridays 5pm-8pm from June through mid-September in Manzanita.