Tillamook Coast Life Blog
Be a steward at Alder Creek Farm
Walking through Alder Creek Farm, you can tell the place is alive.
The creek trickles by. The ducks quack in the garden. Trees blossom and seeds sprout.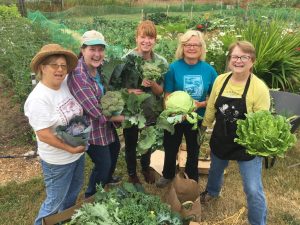 It's a place where the community gathers to grow vegetables and fruit. To celebrate the harvest. To preserve a little piece of Nehalem.
Alder Creek Farm houses a community garden, greenhouse, ethnobotanical trail, native plant nursery and a 50-acre wildlife sanctuary on the north edge of Nehalem Bay.
In 2005, the Lower Nehalem Community Trust purchased the land of a former dairy farm with the funding and support from partners Natural Resources Conservation Service and Oregon Watershed Enhancement Board.
Upon purchasing the property, the Lower Nehalem Community Trust went to work restoring historic riparian vegetation, wetlands habitats, tidal sloughs and removing invasive plants and introducing native plant species.
Every week (March through October), 40 volunteers tend to the community garden growing berries, vegetables, herbs, fruit, trees, and caring for the farm's ducks.
"The community garden serves the volunteers by way that they can take home food," Stewardship Lead Shane Sjorgren said. "And we give the local food bank vegetables. So much that they can't take it all."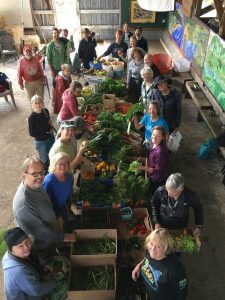 Gardeners don't tend individual plots, but rather everyone works together as a team focusing on a special area of the garden, like brassicas, nightshades, or the orchard. Native plants onsite give community members an opportunity to learn more about local ecology and traditional medicinal and culinary plant uses.
"It's a center for community activities, learning, and teaching about organic farming," Sjorgren said. "The Lower Nehalem Community Trust's focus is to protect the lands around the area of Nehalem and to keep them natural."
Alder Creek Farm practices composting, mulching, cover crops, worm composting, soil microorganisms, hoop houses, cloches, ducks as alternative pesticide control, plants to attract birds and pollinators, elk and deer fences, hedgerows, renewable irrigation, and rain water catchment systems.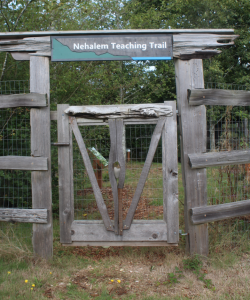 Alder Creek Farm also houses the Nehalem Teaching Trail which is a hands-on learning experience that invites audiences to investigate native plants, their habitats, and the ancient Indian traditions surrounding their uses.
"Education oriented from its very beginning, the Trust's board readily embraced the notion," said Doug Firstbrook, Lower Nehalem Community Trust board member. "There are many diverse ecosystems present on these 55 acres of land. We were alive in the land of possibilities, so a trail based on the regional flora with the opportunity to learn their historical and cultural significances seemed like a natural next step that would benefit the entire community."
"Stewardship Fridays" at Alder Creek Farm involve the community in restoration projects in the area.
Projects have included clearing bamboo and blackberry brush.
"This allows natives plants a chance to grow, invasive species shield out the plants," Sjorgren said. "People want to come out and do their part…and that's one way they can feel like they're making an impact."
Every April Alder Creek Farm hosts a popular plant sale of healthy garden starts grown especially for the coastal climate. And every October the Harvest Festival is held to celebrate the bounty of the coast.
Visitors are welcome to peruse the community garden, follow the Nehalem Teaching Trail, or join in on a Stewardship Friday.
Alder Creek Farm is located at 35955  Underhill Lane, Nehalem.